It is easy to
print everything on one page

in Excel, whether on MS Office 365 or another!



 

Content:



 





Anyone who wants to print various worksheets can adapt their content to one page, you don't have to print the crowded columns or rows on a second paper. It is not economical to print just one column or one line on a piece of paper. Fortunately, there is a way in Excel to resize the print area and fit all of the content onto one page in Excel!





1.) Set the print area to just one page in MS Excel!
1. Open the document in MS Excel as usual
(Select the for Print Rows / Columns)

2. Go to page layout

3. Optionally define the print area

4. Via page layout "Formats" "Other paper formats ..."

5. Change the paper format to "Customize" 1 ​​x 1

6. And print all the Excel contents of the current workbook on a single page  

( ... see Image-1 Point 1 to 7 )

As you can see, it is not a difficult method to change the size of the print area and easily convert it to a page Adapt Excel.

See also: ►► Have MS Excel calculate toll for the Euro or US Dollar sum, but how?




(Image-1) How can I print everything on one page in Excel?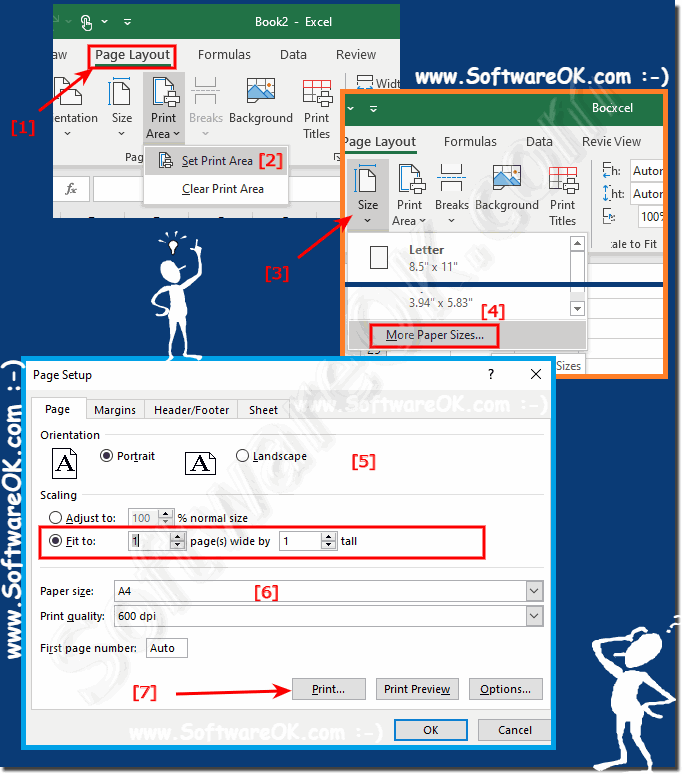 2.) Tips for printing on one page of MS Office documents!
Printing on one page is quite practical and saves space, but you should consider beforehand whether you should reduce the page margins or define the print area in order to get the most legible worksheet print possible, so that the whole thing is not too small!

Please refer:   


From an environmental standpoint alone, printing on one page is commendable, as long as the content also fits legibly on one page. You can do this well in Excel too, printing on one page can be visually appealing and clear.

When printing on a single page in Excel, it is also important to choose the best possible cell width in Excel to save space, of course, you should not ignore the overview effect. It is also the case here that you should remove any unnecessary and empty rows and columns.



FAQ 26: Updated on: 4 October 2022 06:50