Using the multiple clipboard is really easy to use, on all Windows (10, 8.1, 7, ... ) after you have downloaded the freeware program.




Normally, however, the five additional clipboard seats are sufficient. The standard Windows clipboard works with the keyboard shortcuts:
CTRL + C for copy move the copy of the selected objects (text, image, files, ... etc) into the clipboard.
CTRL + V to paste into another program.

With the additional clipboard memory slots you can define the keyboard shortcuts for yourself,

Here's the clipboard-1 keyboard layout:
CTRL + 1 to put the marked objects in the clipboard ergo copy command.
ATL + 1 for paste into another program.

If you want to put something in clipboard slot 1 now use CTRL + 1 to copy and ALT + 1 to paste. (... see Image-1 Point 3a and 3b).  The function is the same only if you need the clipboard at a later time you can continue to use the standard Windows clipboard without that in the clipboard slot 1 will be overwritten.

The same is at the other 10 clipboard places (memory). The keyboard layout for these are freely adjustable. And can be changed at any time. Without overwriting them by pressing the standard Windows clipboard keys.

... back to the program FAQ Index
... back to MultiClipBoardSlots



(Image-1) Additional clipboard for Windows 10 to XP!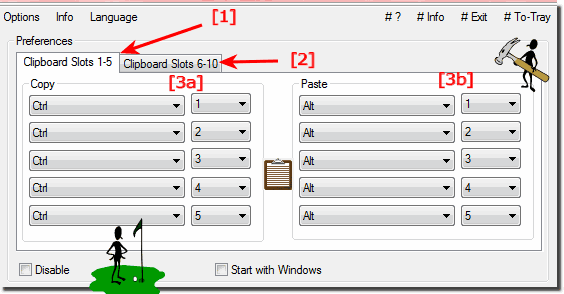 FAQ 5: Updated on: 31 August 2023 10:26