Many users wonder if you can encrypt certain folders or files on Windows 11, the answer is like on other MS Windows OS, YES!
If you want to encrypt a Windows 11 file or folder, proceed as follows, but this is only possible from version Windows 11 Pro and higher!
1.) Encrypting the directories or files under Windows 11! 
1. Select the file or folder that you want to encrypt.

2. Right-Click the file or folder and select Properties


3. On the
General tab,
click the
Advanced
button .
(Image-1) Encrypt certain folders or files on Windows 11!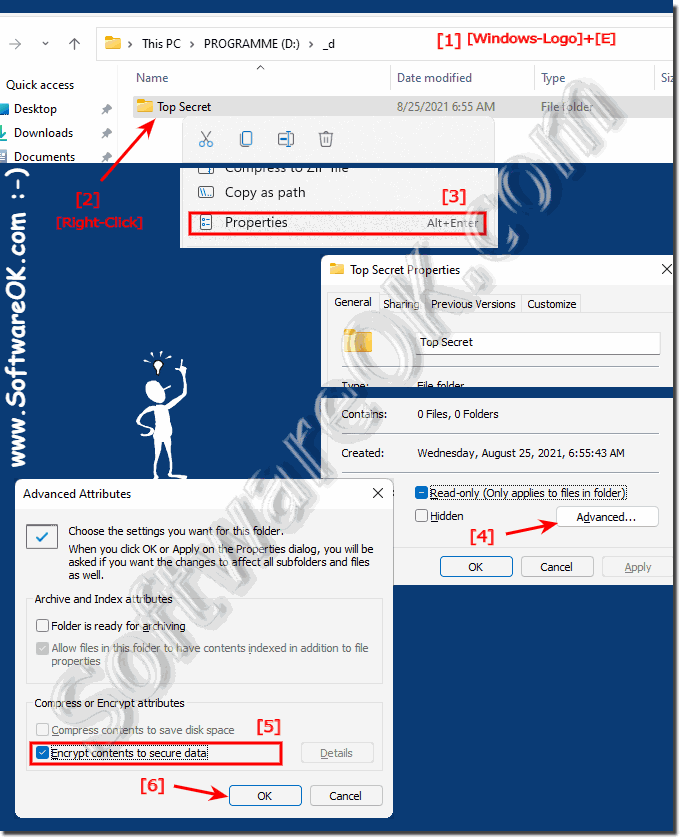 2.) What should I watch out for when encrypting the data?
After ► encrypting folders, directories, ... you will be asked to save the file encryption certificate and the key!  

It is best to save your certificate on an external data carrier, which you then keep in a safe place so that you can access your encrypted data!

(... see Image-2)

A *.pfx file is created to get access to the protected data if necessary, you only have to remember the password to get access to the encrypted data!




(Image-2) Windows 11 encrypt folders, files and secure certificate!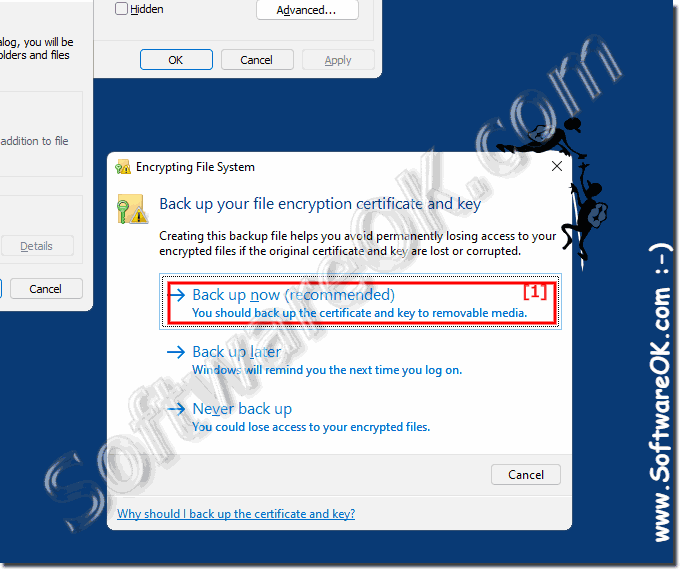 3.) Why should the certificate and key be backed up?
This question is almost unnecessary!

Creating this security file can prevent the protected data from becoming inaccessible. The certificate and the associated key should be saved on a removable medium USB, DVD, CD, ...!   


4.) More tips on certificates, security and Co. on MS Windows OS!


To ensure security on Microsoft Windows operating systems, certificates can play an important role. Certificates are used to confirm the authenticity of software, websites, and other digital resources and to encrypt communications.

Windows operating systems contain a list of trusted certification authorities that is used to verify the authenticity of certificates. Make sure you only download and use websites and software from trusted sources.

By following these security best practices and using trusted certificates, you can ensure the security of your Microsoft Windows operating system.

Certificates in Windows operating system certificates are digital credentials that confirm the identity of a person, computer, or website. They are used in Windows operating systems for a variety of tasks, including:

- Encrypting data: Certificates can be used to encrypt data so that only the intended recipient can read it.

- Authentication: Certificates can be used to confirm that a person or computer is who they say they are.

- Signature verification: Certificates can be used to verify the authenticity of documents or files.

►►  What are the difference between EV and OV Code Signing certificates?

In rare cases, certificates may be fake or invalid. If you find a problem with a certificate, you should not use it.

Certificates are an important security feature in Windows operating systems. By using security features such as encryption, authentication, and signature verification, you can protect your data and your computer.





FAQ 118: Updated on: 13 October 2023 21:53