The current font makes the explorer panels appear cluttered, and there is no option to change it!
Content:
1.) Change Font Face Name / Font Family is in Work!
From Ver. 6.86 you can 
In the Q-Dir INI:

[Start]
FontFaceName=Segoe UI



So you can currently customize the font in Q-Dir! (: more in one of next versions :)
The adaptation of the font is in progress! MENU ► Tools ► Font 
2.) Change the Font Style  Bold or not Bold! 

Click on the menu item Extras > ... more options , and click the Colors tab.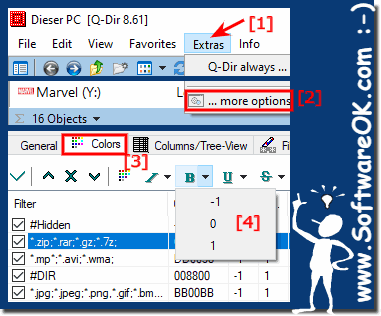 Then select all Items in list and set BOLD [B] to NULL (0).

Tip:

Click on the menu item:
Extras > List-View,

And click the Use Colors Filter,
for fast disable or enable of color filter for all File Explorer on MS Windows.


3.) Change the Font Size! 
You can change the font size, check the option:

1. Please Open the Quad explorer 4 Windows!

2. Via Main menu ▼ Extras ▼ Font (... see Image-1)



Info: use of other fonts i will make the font usage better!



See also:  ... No Expand Triangle and Lines in Explorer Tree-View!



(Image-2) Change font size of Explorer List-View!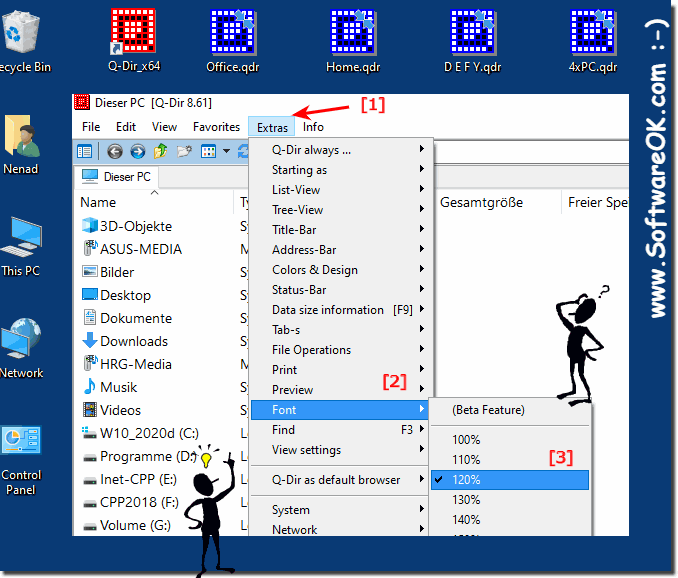 FAQ 22: Updated on: 27 July 2020 13:26