The current font makes the explorer panels appear cluttered, and there is no option to change it!



From Ver. 6.86 you can 

In the Q-Dir INI:

 
[Start]
FontFaceName=Segoe UI


So you can currently customize the font in Q-Dir! (: more in one of next versions :)

The adaptation of the font is in progress! MENU ► Tools ► Font 



Change the Font Style!

Click on the menu item Extras > ... more options , and click the Colors tab.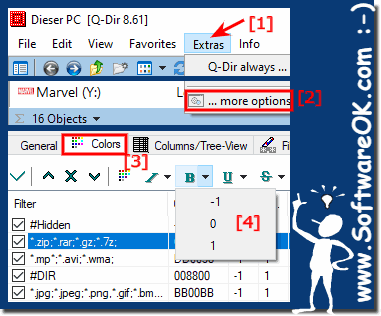 Then select all Items in list and set BOLD [B] to NULL (0).

Tip:
Click on the menu item Extras > List-View , and click the Use Colors Filter,
for fast disable or enable of color filter.

FAQ 22: Updated on: 16 October 2019 13:58