Examples how to use the
Q

uad-

Dir

ectory internal file association rules, to open the files!

Example 1:
Eg: For 7-zip, with 7-zip in the default Program Files folder.
*.zip;*.rar=C:\Program Files\7-Zip\7zFM.exe

Example 2:
Q-Dir is on the USB Stik and Notepad++ also.
The file extension "txt", "cpp", "pl", "ini", "php", "cgi" to be with Notepad++ open.


*.txt;*.cpp;*.pl;*.ini;*.php;*.cgi=%drive%/npp/unicode/notepad++.exe



Or even for portable 7-Zip :


*.zip;*.rar;*.7z;*.tar;*.iso;*.lzh=%drive%/7-Zip/7zFM.exe



%drive% is a placeholder for the drive from which to Q-Dir is started.
In the case of: the Q-Dir path is "M:/Q-Dir/Q-Dir.exe" then would be %drive% a placeholder for "M:".

This allows you to define yourself, through the menu : Extras >> ... more options, then tab bar Association.
(: ... see Image-1 Arrow 1 to 5 :) 

See also: I would like to disable Auto-Expand of Folders! || Folders expand too quickly at drag over, in Tree-View

Please always use  ►.... the newest and latest version of File Explorer Q-Dir ◄  



(Image-1) Use the Q-Dir internal file association Rules!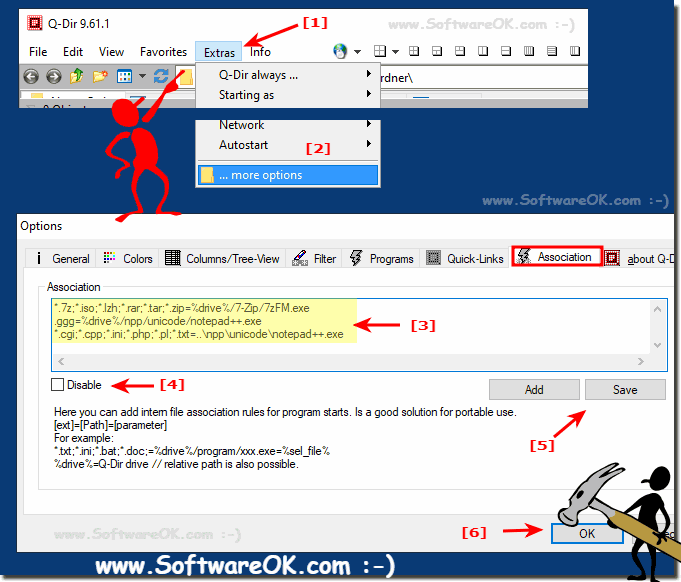 FAQ 51: Updated on: 19 April 2018 22:14