In Firefox navigation between tabs, the standard navigation buttons for this function are Ctrl-PageUp and Ctrl-PageDn why not in Q-Dir?!


Content:




TIP: Restore the last closed tabs by right-clicking on the tab bar.



1.) Switch tabs through (switch)!
The Firefox is a very good browser, but there is no a file manager!


The Ctrl-PageUp and Ctrl-PageDn [foxus up/down]

Is used by windows list view (System-Default) and the Firefox has no list view!

Please use :

[CTRL + TAB]

and  for back [CTRL + SHIFT + TAB] in Fire Fox is also so!




(Image-1) Switch The Tabs in Q-Dir via Keyboard Shortcuts!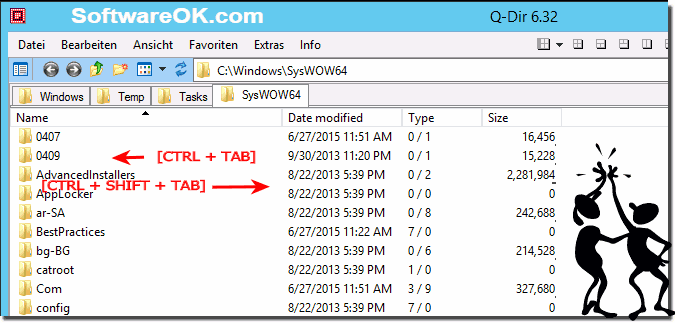 2.) Close tabs New Tabs and ....
Close The Tab


1. Double-click with the left mouse button on a tab.
2. By clicking with the middle mouse button on a tab (*1).
3. Right mouse click on a tab. Then close context menu or close all others.
4. Shortcut CTRL + W closes the current tab / tab (*1).

To (*1): is solved in Internet Explorer 11/10... 7 and in Fire Fox too!


New Tab in Q-Dir
Right-click with the mouse:
1. On the new folder icon - in the address bar, a new tab is opened with the current folder path!
2. On the workstation / computer icon - in the address bar, a new tab opens with the folder My Computer!
Middle mouse click:
1. The icons of the (modern) address bar also open a new tab.
3.) Open New Tab Via Drag and Drop in all / from all Explorer Views!
Please Drag a Folder or Drive and Drop it on the Free-Space in Tab-Bar

(... see Image-2 Point 1 and 2)



(Image-2) Quad-Explorer and new Tab via Drag and Drop!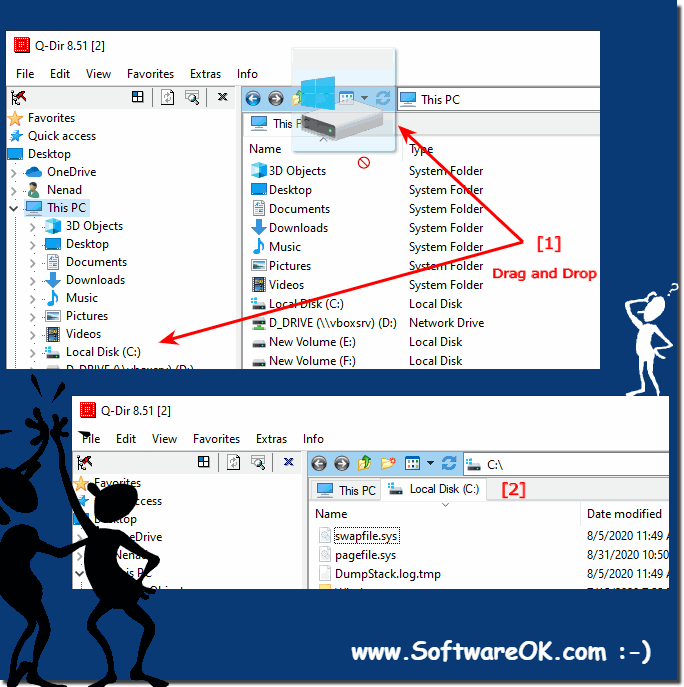 FAQ 64: Updated on: 21 September 2022 07:36