This memory test tool was created on request of the user, here I worked hard and equipped it with a few extras!


Content:

1.) The comfortable RAM or main memory test!
1. Quick test and based on the Windows XP performance display in Task Manager !

2. The memory is exceedingly rare defect, but you can test it once.

3. Primary I was interested in various evaluate how the Windows 10 behaves in high memory usage
 


Conclusion:

It is more comfortable to use and you can also get some information about the Windows memory at a glance and has access to other useful features!

Man can set the memory test to infinity and just watch the Windows for behavior in high and aggressive memory usage to provoke other components to system failures and the system in terms of RAM simply exhaust

 the system without gigantic test tools with several gigabytes download to have to.  





(Image-1) The RAM ergo memory test for Windows 10, 8.1!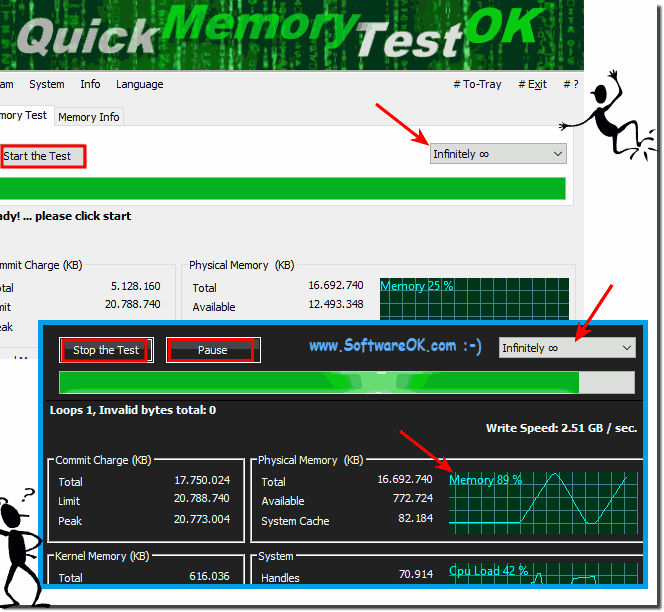 2.) Reasons for a RAM or main memory test for Windows!
More general memory info ...
The memory installed in your computer is very sensitive.
It's always a good idea to run a memory test on newly purchased RAM to test for errors.
Of course, a memory test is always alright if you suspect you have a problem with your existing RAM.

For example, if your computer does not start at all or reboots randomly, you may experience memory issues.
It is also a good idea to check the memory when programs crash, sound beeps during a reboot, error messages like "illegal operation" are displayed or BSODs are displayed - some may read "fatal exception" or "memory management."


Optionally use the Windows Memory Diagnostic Tool!
This Windows Memory Diagnostic tool is the preloaded memory test software available in Microsoft Windows Vista, Windows 10, 8.1, and Windows 10.
The memory diagnostics tool runs automatically when you restart Windows.
It may take a few minutes for the tool to check your computer's memory.
Once the test is completed, Windows restarts automatically.
If the tool detects any errors, contact the manufacturer of your computer for information about how to fix them, because memory errors usually indicate a problem with the memory chips in your computer or another hardware problem.
Type "Msched" and look for the tool. (
... see Image-1 Point 1
)
(Image-2) Access to essential memory and system functions under Windows!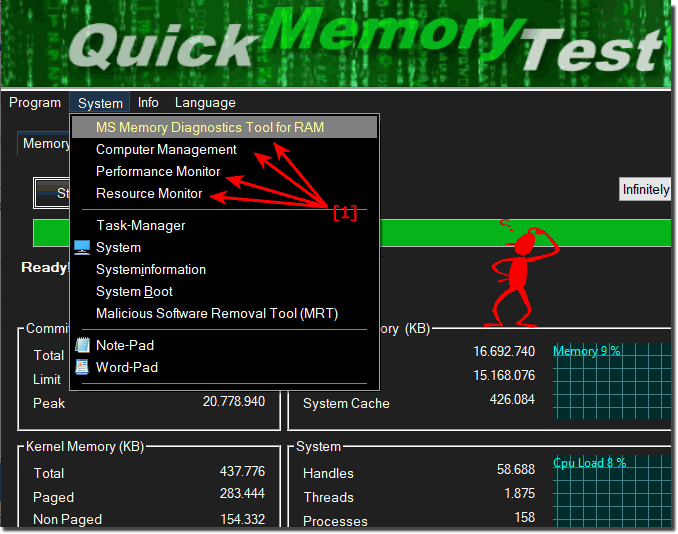 A RAM or memory test for Windows is an important diagnostic tool used to check the health and stability of a computer's random-access memory (RAM). There are several reasons why such a test may be necessary:




Faulty RAM:
RAM is a crucial component of a computer that is responsible for temporarily storing data and programs. If RAM is faulty, it can lead to a variety of problems including crashes, blue screens, data loss, and unexplained errors. A memory test helps to detect such errors at an early stage.

Performance issues:
If a computer is unexpectedly slow or has difficulty performing tasks, it may indicate RAM issues. A RAM test can help determine whether the RAM is performing as expected.

Stability testing:
When overclocking or installing new hardware components, it is important to ensure that the RAM is stable and error-free. A RAM test can help check the stability of the system under such conditions.

Data Integrity:
When storing important data on your computer, the integrity of RAM is critical. RAM errors can lead to data corruption. A memory test can help you ensure your data is safe.

Troubleshooting:
If your computer repeatedly crashes or experiences unexpected problems, a RAM test can help determine whether RAM is causing the problem.




For Windows, there are various tools and methods to perform a RAM test. For example, the Windows Memory Diagnostic Tool is a built-in option that allows you to check your RAM for errors. Another popular tool is MemTest86, which runs from a bootable USB stick or CD and performs comprehensive RAM diagnostics.

Overall, a RAM test is an important measure to ensure the stability and performance of a Windows computer and to avoid data loss and system crashes.


3.) Advantages and disadvantages of the RAM or main memory test under Windows!
Running a RAM or storage test on Windows offers several advantages, but it can also have some disadvantages. Here are some of the key pros and cons:
Advantages:




Early detection of hardware problems:
A RAM test can help detect memory problems early before they lead to more serious problems such as data loss or system crashes.

Improved system stability:
Detecting and fixing RAM errors can improve the stability of your system, resulting in fewer crashes and problems.

Performance Improvement:
A memory test can ensure that your RAM is working optimally, which can improve your computer's overall performance.

Data Security:
If faulty RAM causes data corruption, testing can help ensure the integrity of your data.

Hardware Upgrades:
When upgrading memory, testing is an important way to ensure that the new memory is working properly.

Diagnosing Blue Screens and Crashes:
A RAM test can help determine the cause of blue screens and crashes, which are often due to RAM problems.


Disadvantages:




Time consuming:
A full memory test can take some time, especially if you are conducting extensive testing, which may result in temporary system limitations.

False positives:
Not all reported RAM errors are actually critical. Some may be due to software problems or temporary disruptions.

May Increase Wear:
Repeated RAM testing can minimally reduce memory lifespan because it places frequent demands on RAM.

Requires specialized software:
A comprehensive RAM test often requires specialized software or third-party tools that may not always be available or easy to use.

Required User Skills:
Interpreting test results typically requires a certain level of technical understanding, which can be challenging for beginners.




Overall, the benefits of running a memory test outweigh the disadvantages, especially if you suspect problems with your computer or want to improve your system's stability and performance. However, to achieve the best results, it is important to perform the test properly and interpret the results correctly.







FAQ 1: Updated on: 25 October 2023 17:23