When the internet on the Samsung phone gets to its knees or gets very slow, you can change that pretty fast!




There are not only solutions for the iPhone how to influence the Internet speed! With this example, it is also quite easy for Samsung mobile phone owners to adapt the Internet speed to all new Android phones. Data can be changed from very fast to very slow, which can be used partly as a preventive measure for fast data limit overruns, here explained step by step! 



Content / Solution / Tip:

1.) Internet speed on Samsung Galaxy Android customize!

If you want to change the Internet speed of the mobile data, please open the main menu of your Samsung Galaxy, then ►  in System Settings select on "Connections"  and Select "Sim card manager" 
(... see Image-1 Point 1 and 2)





(Image-1) Speed ​​mobile data LTE / 4G / 2G / E on the Samsung Galaxy!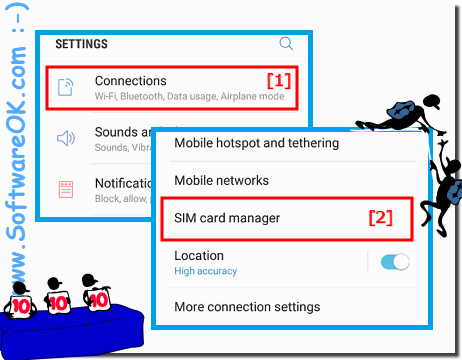 There may be issues with setting up your speed, such as a system update to your smartphone / phone, or the peculiarities of public Wi-Fi, or even problems with your wireless service provider, and a simple call often helps.


2.) What should I keep in mind at the internet speed!

There are so many public Wi-Fi hotspots, and your phone can randomly access one of them. It will even stay connected without you noticing it in part, after you have come within the reach of a closer, or better range Wi-Fi hotspot. It means that your LTE or 4G will shut down and have a good Wi-Fi connection when overloaded, but in reality the speed is much worse than the mobile data. On Android, or iPhone, you can choose to connect to this public Wi-Fi hotspot when you're within range, using the free hotspots is not always your best bet.



FAQ 16: Updated on: 14 September 2023 08:02