It is quite easy to remove or uninstall applications on the Samsung smartphone!



 

Content:

1.) Uninstall applications or APPs on Samsung!
To uninstall the Samsung smartphone app-S, please open the main menu of your Samsung galaxy, then via settings on "Application" 

In the window that is open, select the "Manage Applications" Apps option

Scroll down to the app you want to uninstall! 

A click (tap) on the application will show the app's information and the application Uninstall button! 

(... see Image-1)



(Image-1) uninstall apps on the Samsung!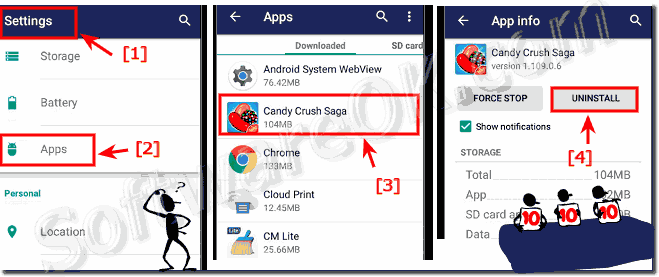 2.) Step by step on Samsung Galaxy applications, uninstall!
Uninstalling applications (apps) on a Samsung device is usually a simple process. Here are the general steps:

Open the Settings app on your Samsung device. You can do this by tapping the Settings icon on the home screen or finding it in the app drawer.

Go to "Apps" or "Application Manager": Depending on your Samsung model and Android version, the exact names may vary. Find and tap a menu item related to apps or Application Manager.

In the list of installed applications, you will find the app you want to uninstall. Tap the relevant app.

In the app details, you will usually find an "Uninstall" or "Disable app" option. Tap on it.

A confirmation request appears. Tap "Uninstall" to confirm the process.

After completing these steps, the selected app will be uninstalled from your Samsung device. Please note that pre-installed system applications may not be uninstallable, only disabled.




It is important to note that the exact steps may vary depending on the model and version of the operating system. If you have difficulty finding the uninstall options, you can check your specific Samsung model's user manual or contact Samsung support directly.








FAQ 7: Updated on: 15 November 2023 00:04