The solution is simple to Show
My-Computer

and Control Panel on the Desktop in Windows 10, this example is also suitable for Windows 8.1 and seven!



Content / Solutions:

You can choose to display Windows 10 folder and features on your desktop, for example Computer, Network, and Recycle Bin.


See also:Windows 10 desktop icons are so big, why || Customize icon spacing on the windows 10 desktop  

1.) Customize Desktop Icons via Run-Dialog!
Please press the Windows-10 key combination [Win-Logo]+[D] to see the Windows-10 desktop.

You can open the window Desktop Icons Settings via Windows-10 Run Windows+R and command desk.cpl ,,5. 

Enable the desktop icons for Window-10, (Computer = My Computer = This PC)

In the window "Desktop Icons Settings"  (... see Image-1) what you want to see on

the Windows 10 Desktop

.

In the Desktop Icons Window, select the check box for each icon that you want to show on the desktop. un-check the check box for icons ergo desktop Symbols that you don't want to see on the windows 10 desktop, and then click Apply or the OK button. 

Follow these steps to add shortcuts to your Windows 10 desktop: 
► Create desktop shortcut in Windows 10 for a program!



(Image-1) My-Computer Control-Panel on Windows-10 Desktop!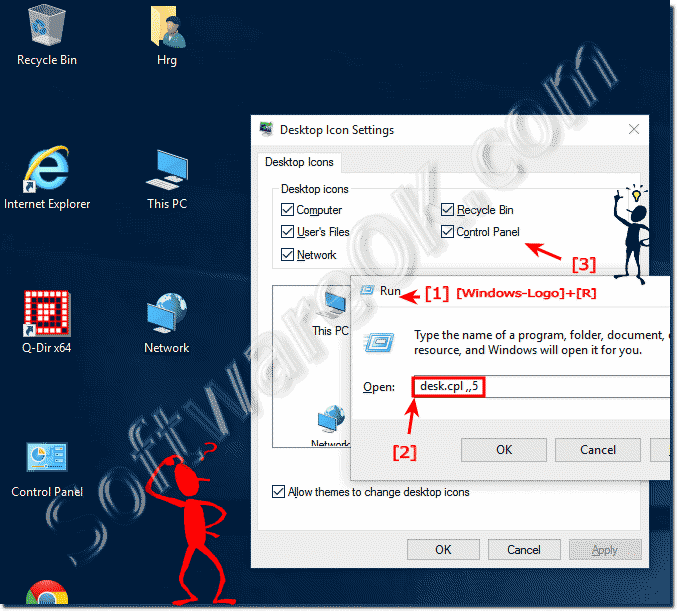 The operating system Windows 10 contains a number of changes to the interface after installing this version of the operating system you will find that the "Control Panel" is not found on the Windows Desktop. If the system control is indispensable. In the desktop icon settings window, you can decide what icons you want to see on the Windows 10 desktop.



On Windows 10, you can also set common Windows 10 features to appear on the desktop, such as: For example, Computer early workstation, Network and Recycle Bin, and the Control Panel. To change the Windows 10 desktop icons.

 

Under Desktop Icons, select the check box for each icon you want to display on the Windows 10 desktop. Clear the check boxes of desktop icons that you do not want to see, and then click OK. (

... see Image-1

) 


To Show My-Computer and Control Panel on Desktop Applies for: Windows 10 Pro, Windows 10 Enterprise, Windows 8.1, Windows 8.1 Enterprise, Windows 8.1 Pro, Windows 8, Windows 8 Enterprise, Windows 8 Pro!


2.) Change the Desktop Icons via  Personalize Window! 

Please use the Keyboard Shortcut Windows+I select Themes and scroll down or find it on the right side in this Window. And click or tap on the text Desktop icon settings! (... see Image-2)




(Image-2) More Desktop Icons on Windows-10!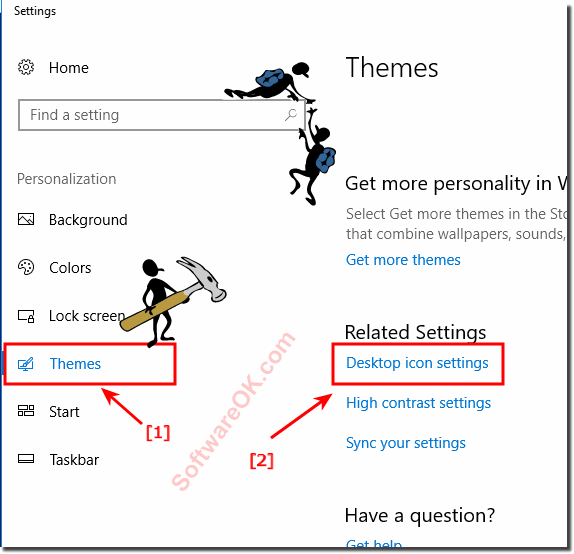 See also:
► Customize icon spacing on the windows 10 desktop (symbol distances)!
► Virtual on screen keyboard windows 10 Desktop shortcut, how to?

Microsoft has tried to give its users maximum creative freedom. This is due to the personalization parameters and capabilities as well as the cross-platform system. No matter what you have: laptop, tablet, smartphone or PC, you can create your own desktop on any device. Therefore, your desktop will be empty for now.

Many Windows 10 users find it very important that they have what they desperately need on their desktops, such as the "Control Panel", which means that they will probably always have the fastest access through this "Control Panel" shortcut on the desktop in Windows 10 , to the system configuration need.

In general, on the desktop, adding desktop icons is quite easy.


FAQ 33: Updated on: 29 May 2019 12:47