On all new Microsoft Windows OS to 11 you can open the folder with the last saved search results!
1.) Foreword to the search results directory in Windows!
If you regularly search for specific files in Windows, you can save the search criteria as a saved search to quickly access and run your searches without having to go through the entire search criteria again. Windows saves your saved searches in your personal search folder.


2.) Open the directory with the saved search settings!
By default, Windows saves your personal searches in the user account folder
%userprofile%
(eg:
"C:\Users\Nenad\Searches"
).
If you have never saved a search, you must create a new folder called Searches if you want to move your personal search folder.
See: ►
Export and print Explorer search result (xls, csv, txt. html)
?
Windows + R
command
%userprofile%/Searches
and the saved search results can be seen.
(Image-1) Find directory with the search results in Windows!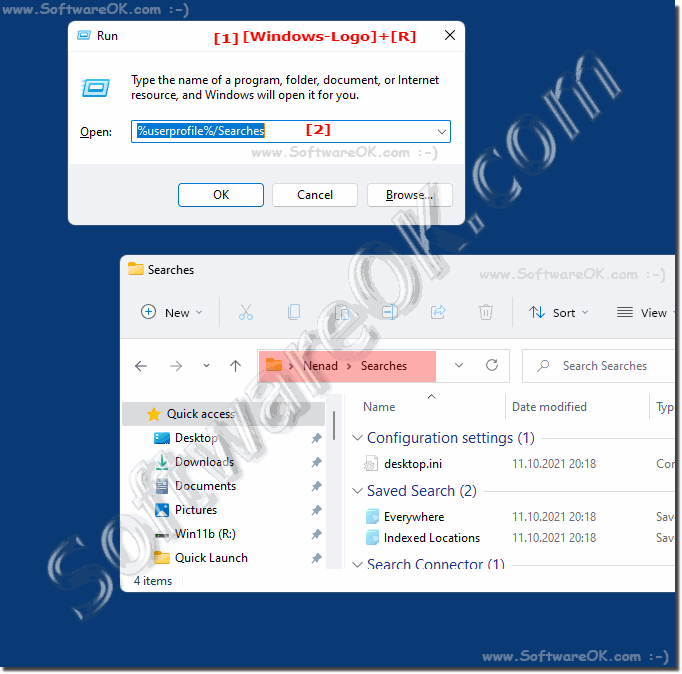 3.) Moving the folder with the search results!
You can change this and determine where files in this search folder are saved to a different location on the hard drive, a different drive, or a different computer on the network. Practical if you want to do
a clean reinstallation of Windows 10
and don't want to do without the saved searches.
 
Open the %userprofile% folder and in the second file explorer choose the folder where you want to move it.

Attention, it must be a move and not a copy, otherwise the system registry entries will not be changed correctly. 
PS: The
Quad Explorer
can prove to be helpful here.
OK, just right-click drag and drop and select move.
(
... see Image-2
)
With the copy action, only one copy is created.
(Image-2) Move the directory with the search results!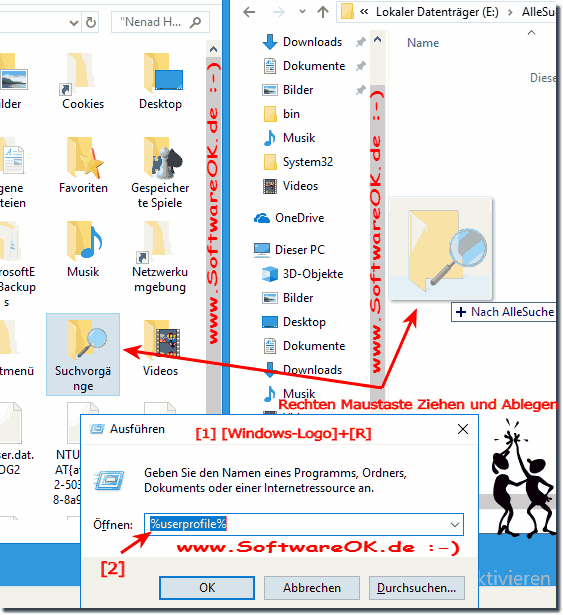 So now you know how to move the default location of your search folder to the desired location in Windows 10. As I said, this is not only the case with Windows 10, i.e. the screenshots were taken under W10, but this applies to the following operating systems: Windows 11, 10 Pro, Enterprise, Home, Windows 8.1, Windows 8, Windows-Server 2019, 2016, 2012, Windows 7 Basic, Professional, Starter, Ultimate . Searching and finding can be so easy on Windows.
FAQ 107: Updated on: 27 July 2022 10:01