It is easy to use custom textures
for the desktop CLOCK

from version 7.01 on all MS Windows 11, 10, ... Desktop and Server OS!




Anyone who has good knowledge of graphics, PNG, alpha transparency, ... can design their own desktop clock in no time at all without much effort, in general everyone should be a little familiar with digital graphics, this can only be an advantage!





Content:



1.) Here is a simple children's watch that I put together in 10 minutes!
With the search term: Transparent PNG MICKEY MOUSE I quickly found the images on the Internet and edited them with the ancient Ulead Photoimpact 8.0, but it also works with any other program that can handle transparency or alpha transparency!

You can integrate shadow effects into the pictures yourself (if you can), but you don't have to, because the desktop Aero clock ►  TheAeroClock automatically offers the shadow effect for the user-defined pictures, which makes the clock appear better and more professional.




(Image-1) Use a custom texture for the desktop CLOCK!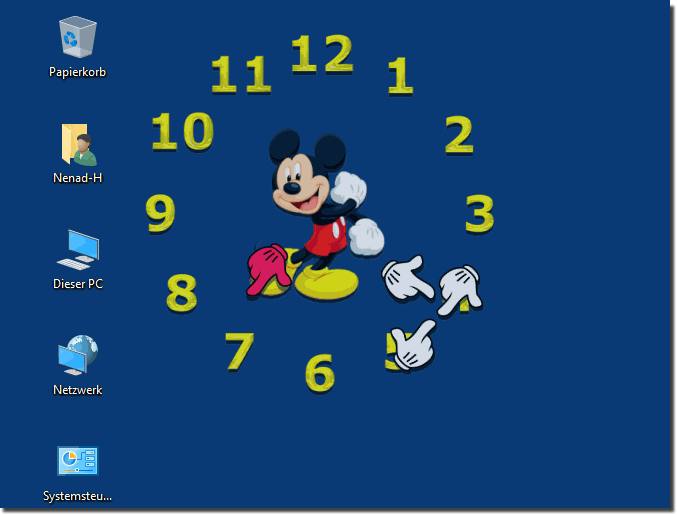 2.) The rules for custom images!
1. Open the folder of the Ini file

2. Create the folder img

3. You can then use this for your own texture of the desktop clock

(... see Image-2 Point 1 to 6)




clock _*_ bg.png

 is the basic image for your own CLOCK  

Here is the layer sequence



clock _*_ bg.png

    < Background


clock _*_ cf.png

     < Clock Face


clock _*_ hour.png

< Clock hand


clock _ *_ min.png

< Minute   hand


clock _*_ sec. png

  < Second hand

It works also with only two images:



clock _*_ bg.png

    < Background


clock _*_ min.png

  < Minute hand

In this case, the clock hand and the second hand are generated from the minute hand! 

But it works also with one image: 
or only

clock _*_ bg.png

  <  Background 

Then the alternative second hand is used ;-)



(Image-2) Custom user texture for the desktop clock the Rules!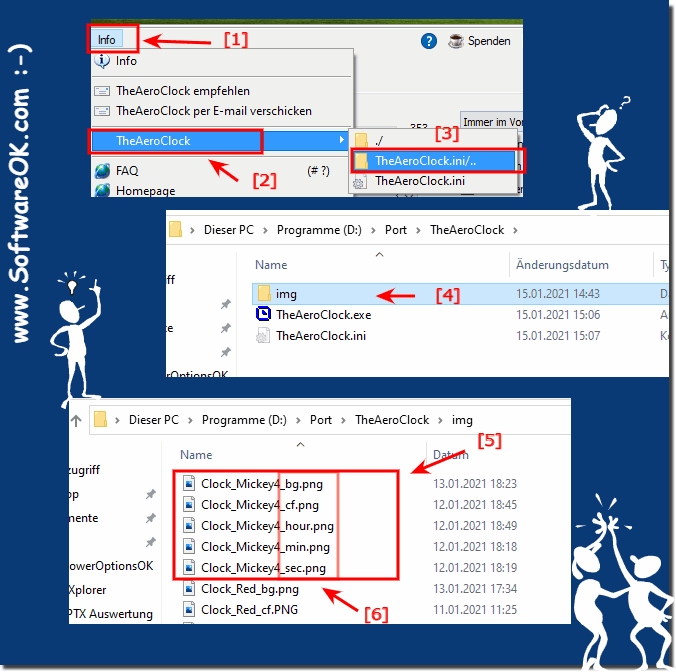 3.) What kind of software is suitable for creating the images?

There are various software applications that are suitable for creating vector-based images. Here are some of the most popular options:

Adobe Illustrator: Adobe Illustrator is one of the most well-known and powerful vector graphics software applications on the market. It offers a wide range of tools for creating vector illustrations and graphics.

CorelDRAW: CorelDRAW is another popular vector graphics software used by both professional designers and hobbyists. It offers a variety of tools and features for creating vector graphics.

Inkscape:Inkscape is an open source vector graphics software available for free. It is a good option for those looking for powerful vector graphics software without having to pay for it.

Affinity Designer: Affinity Designer is a vector graphics software from Serif that is positioned as a cost-effective alternative to Adobe Illustrator. It offers many advanced features and a user-friendly interface.

Sketch: Sketch is a vector graphics software that is particularly aimed at UX and web designers. It is optimized for creating user interfaces and web designs.

Gravity Designer:Gravit Designer is another free vector graphics software available both online and as a desktop application. It offers a wide range of tools and is easy to learn.

Vectr: Vectr is a simple and easy-to-use vector graphics software that can be used online in the browser or as a desktop application. It is well suited for beginners.




The choice of software depends on your individual requirements, budget and experience. Adobe Illustrator is often preferred by professionals, while Inkscape and other free options can be good choices for beginners. It may be helpful to try out different programs to see which best suits your needs.





4.) ... Tips for searching images for the desktop CLOCK!


The term PNG and transparent is always an advantage, regardless of whether it is Google Images Search or Bing! 

For example:

► Transparent PNG MICKEY MOUSE
► Transparent Harry Potter brush
► Transparent broom PNG

Tip: ►► if you have problems with transparency in some images!



5.) ... Download the sample pictures for the desktop clocks!






PS:
I will add more pictures and textures at times, now only as a template 

Remember to always respect copyright regulations when using images from the Internet and to ensure that you obtain the necessary permissions or licenses to use the images if you wish to use them for commercial purposes.


6.) What should I watch out for about copyright and such ...?
If you use it for Private Desktop Clock and don't resell or distribute it there are no problems 

Copyright protects the rights of creators to their creative works, including images, photos and graphics. If you want to use images created by someone else, you must ensure that you have the necessary usage rights to avoid copyright infringement.

Here are some important points related to copyright and image use:

Copyright Protection: Once an image has been created, it automatically enjoys copyright protection, and the author has the exclusive right to reproduce, distribute, create derivative works from, and publicly display the image or to perform.

Licenses: Many creators make their images available under specific licenses that specify the terms of use of the image. Examples of this are the Creative Commons licenses, which allow different levels of use depending on the license conditions.

Public Domain: Some images are in the public domain, meaning they are no longer subject to copyright protection and can be used freely by anyone. This can be achieved through copyright expiration or through conscious action on the part of the author.

Your own images: When you create your own images, you are typically the creator and have full control over their use. Usually you can use them however you like.

Royalty-free images:There are also websites and services that offer royalty-free images. These images can be used for a one-time fee or for free without the need for any special license or permission.

Get permission: If you want to use an image that is not under an open license, you should get express permission from the author. This can take the form of a license agreement or written consent.

Fair use:In some cases, the use of copyrighted images may fall within the fair use principle recognized in certain countries. This enables the use of protected works under certain conditions, e.g. for educational purposes or for criticism and commentary. However, the exact conditions may vary from country to country.

It is important to note that copyright laws may vary from country to country and it is advisable to check the specific laws and regulations in your country. If you are unsure whether you can use a particular image, you should seek legal advice or contact the copyright holder to obtain the necessary permission. Copyright infringement can have legal consequences, including fines and damages.



FAQ 13: Updated on: 9 October 2023 11:14