If a hard drive or partition of the SSD or HDD drive should no longer appear in Explorer under Windows 11, 10, ... and MS Server OS!


The solution for all Windows operating systems!

There are various reasons why one might want to hide the Windows partition, for example, if the data should not be accidentally deleted. Hiding drives in Windows is possible in several ways. Without the help of third party programs. 

The pictures here were created under Windows-10, but it works in all operating systems!

The Windows Disk Management here is the right tool ( ... see Image 1 )




(Image-1) Hide a hard disk partition!





If this is too time-consuming for you, press the key combination [Windows logo] + [R], this opens the window for running the programs. After that, enter this command diskmgmt.msc and confirm this. The Disk Management in Windows opens.




(Image-2) Run on Windows 10 or 11 diskmgmt.msc!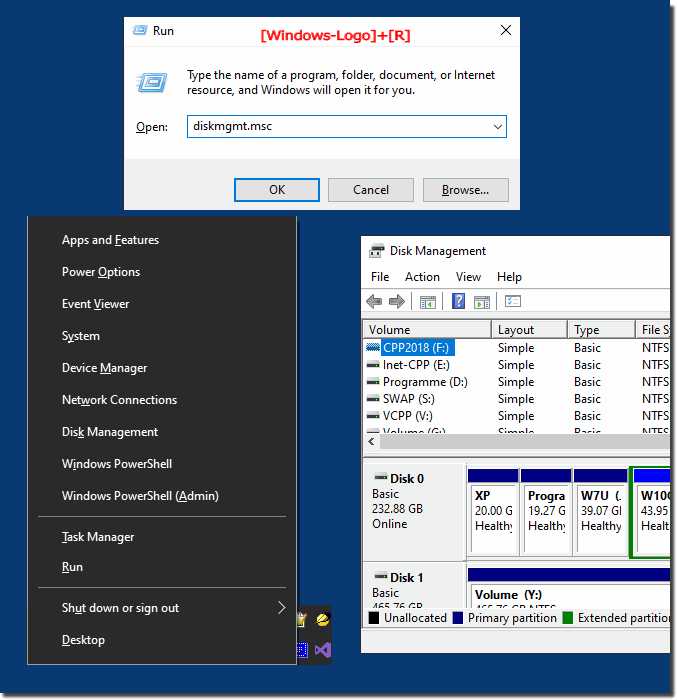 If the new external hard drive or the newly installed SSD is not recognized under Windows, there is frustration at first. But that is often not necessary! In most cases, no hardware defect is responsible for it. The reason is that Windows first has to initialize an unformatted hard drive. Fortunately, what sounds complicated can be done in just a few steps. In most cases, it makes sense to name drives according to their purpose. The drive letter can also be adjusted accordingly. The associated option can be found in the disk management supplied with Windows.


Press Remove!

The drive is not removed, this button is only for removing the drive name in this case hard drive G:\

If the hidden drive should be visible again, you must repeat the steps and click Add and choose a letter of your choice.




(Image-3) Hiding a hard drive partition or drive under Windows 11, 10 (8.1, 7)!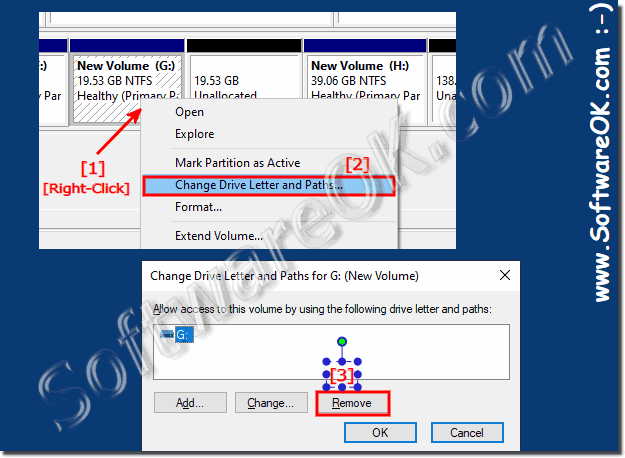 Caution! If the hidden drive should be visible again!
This way of hiding or removing a drive in Windows is quite useful. You can hide any hard drive on the drive that you want to hide, games or programs that are installed cannot be seen by the system. Remember that if you undo it, or if it is visible, it is advisable to enter the same letter if there were program links to this drive so that they work correctly! 
FAQ 98: Updated on: 15 September 2023 15:21