The Windows Remote Desktop uses TCP port 3389 by default. A look into the Windows firewall does not hurt!



Content:



1.) Check remote desktop in the Windows firewall!
You can see whether the remote desktop is allowed by the firewall by opening the Windows Control Panel , then clicking on the Firewall icon and on the text  Allow an app or feature through Windows Firewall .

The direct execution / opening of the firewall settings works with firewall.cpl and it works on all Microsoft Windows operating systems Desktop and MS Web Server 2019, 2016, ...!

( ... see Image-1 point 1 to 4 )

More on this in the FAQ: 
►►  Where can I find programs that are allowed by the Windows 8.1 / 10 firewall?



(Image-1) Windows Firewall!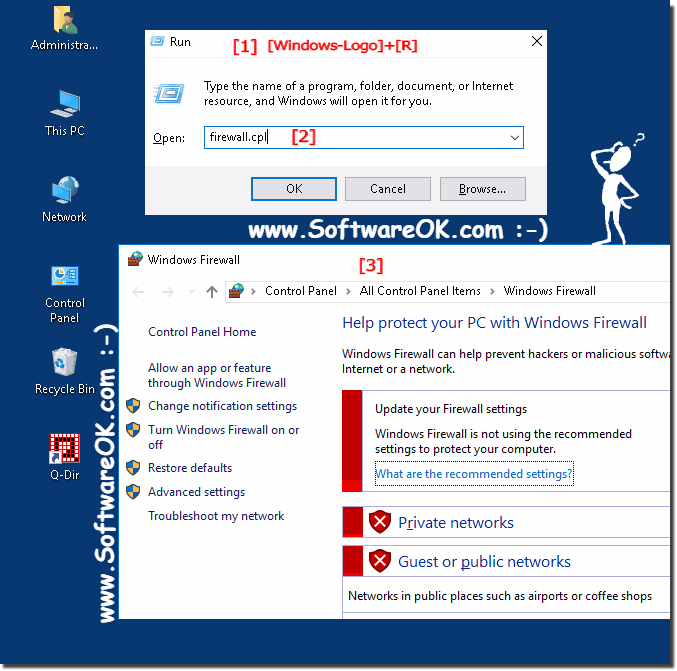 2.) Example Fritz box and the port release / forwarding for internet access! 

Port forwarding on the FRITZBox is so easy that it hardly needs to be mentioned, but if you have never done the port forwarding. Here is the quick setup of port forwarding for remote desktop in order to be able to access the home PC from the office, or vice versa!

 
1. Open the Fritzbox user interface.
2. Navigate to: Internet ► Approvals ► Port Approvals.

3. Click on "Add device for shares" at the bottom right .
4. Now simply select the PC / smartphone, ... (point-5)

5. Now you can share a network device 
(in this MS-Remote - desktop) 
6. Confirm with [OK] 

( ... see Fig. 2 points 1 to 8 )



(Image-2) Fritz-Box and the remote desktop port release for Internet access!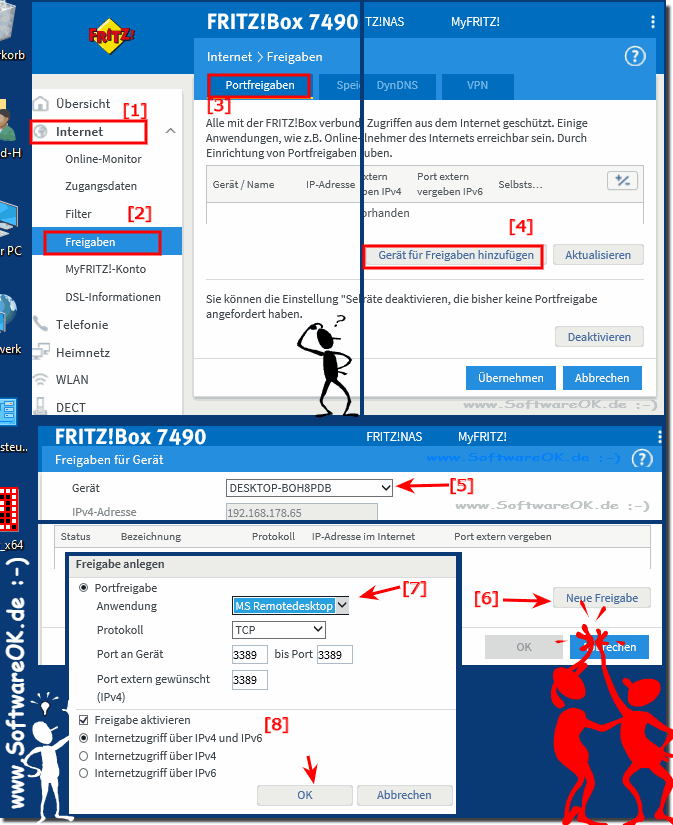 3.) What should I watch out for with remote maintenance from the PC?
If you want to access your PC at home via the Internet, you have to enable the associated ports on the Fritzbox, Speedport, ... as described above.

As always, it is done on the router, which is connected to the Internet with data packets!



Info:
Port forwarding should also be deactivated when not in use, as it can represent a security hole, is especially pointless if it is not needed!
FAQ 52: Updated on: 28 August 2023 07:09