If you want to burn a CD, or DVD from an ISO file on your Windows-10 OS, insert an recordable CD, Blu‑ray, DVD, or Disc into your disc burner.

Content:
1.) ... Burn a Disc from an ISO File on Windows-10!
2.) ... Burn Data via the Windows-10 MS Explorer! 

See also:  ► Password reset disk in Windows 10 ► Cleanup unnecessary files from Windows 10

1.) Burn a Disc from an ISO File on Windows-10!
Open the This-PC folder for example via keyboard shortcut Windows+E and select in Windows-10 file Explorer the ISO file, then use right mouse click and select
"Burn disc image"
(
... see Image-1
). That is the solution ;-)
See also: 
rename the This-PC in My-Computer on Windows 10
 || 
change Home Folder in Windows 10 to My Computer
(Image-1) Burn a CD, Blue Ray or DVD from an ISO file on Windows-10!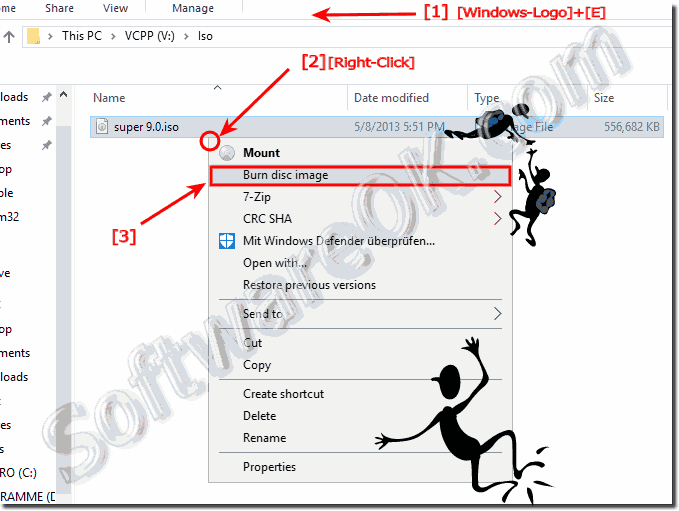 Useful info from (c) Microsoft ;-):

An ISO file, also called a disc image, is a single file that's a copy of an entire data CD or DVD. When you burn a CD or DVD from an ISO file, the new disc has the same folders, files, and properties as the original disc. The most common way to get an ISO file is to download it from a website. For example, you might download and then use an ISO file to update software on your computer. You can burn a disc image file, which often has either an .iso or .img file name extension, to a recordable CD or DVD by using Windows 10 Disc Image Burner. Whether you can burn it to a recordable CD, DVD, or Blu-ray Disc depends on your disc burner and the type of discs it can burn, the size of the disc image file, as well as the device on which you plan to use the disc.



2.) Burn Data via the MS Explorer  on Windows-10!
Open the MS Explorer. for example Shortcut
Windows + E
, select the data to be burned and drag and drop it to the DVD-RW drive. Now you can add a name for the Windows 10 Disc Image!   (
... see Image-2 Point 1 to 3
)
You can also use copy and paste! Or
burn
the data via the context menu and send to.
The disk will be formatted and can be treated as an USB drive or hard drive.
(Image-2) Burn a Data CD or DVD on Windows-10!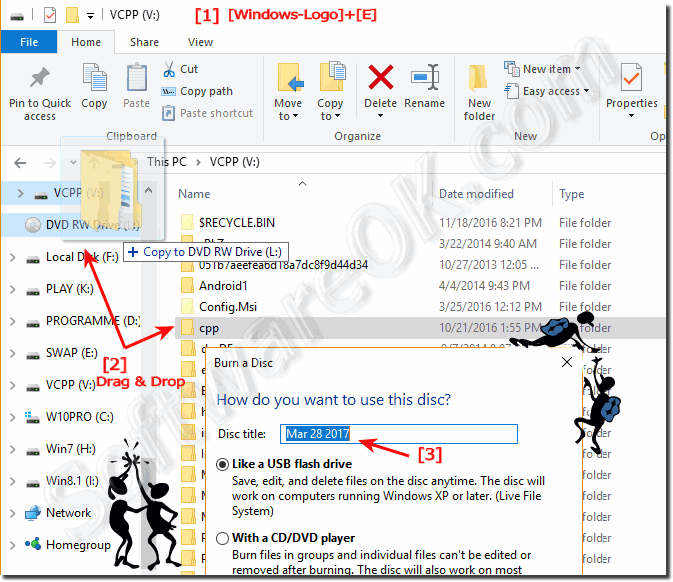 This Solution to Burn a CD, Bluray or DVD from an ISO file is suitable for: Windows 10 Pro, Windows 10 Enterprise, Windows 10 Home, Windows 8.1, Windows 8.1 Enterprise, Windows 8.1 Pro, Windows 8, Windows 8 Enterprise, Windows 8 Pro, Windows 7 Enterprise, Windows 7 Home Basic, Windows 7 Home Premium, Windows 7 Professional, Windows 7 Starter, Windows 7 Ultimate, Windows Vista Enterprise 64-bit edition, Windows Vista Ultimate 64-bit edition, Windows Vista Business, Windows Vista Business 64-bit edition, Windows Vista Enterprise, Windows Vista Ultimate

FAQ 170: Updated on: January 18th 2018 20:12