Desktop icons are randomly moved when connecting to an external monitor in Windows 10/11!

You ran a Windows 10 or Windows 11 dual monitor setup. When you switch from the primary display to the external display, you may notice that the desktop icons have been moved to random positions.


You extend your display to an external monitor and make the external monitor your primary display. After making these changes, your desktop icons will be moved to random positions on the desktop.
This problem occurs because Windows uses the current display resolution to calculate desktop icon positions. Windows interprets the change in the primary display as a change in screen resolution.
So, if you face this problem with your dual monitor setup for Windows 10 or 11 computer, there is almost nothing you can do to get around this unusual display/monitor behavior.
Windows 10 doesn't offer an easy way to lock all icons on the desktop. So, if you have carefully arranged icons on the desktop and don't want others to rearrange them, you can use a free tool.
This option can improve the behavior somewhat ;-)
1. Windows + R command 
desk.cpl ,,5
2. Disable the
"Allow themes to change desktop icons"
option
(Image-1) Windows desktop icons move randomly!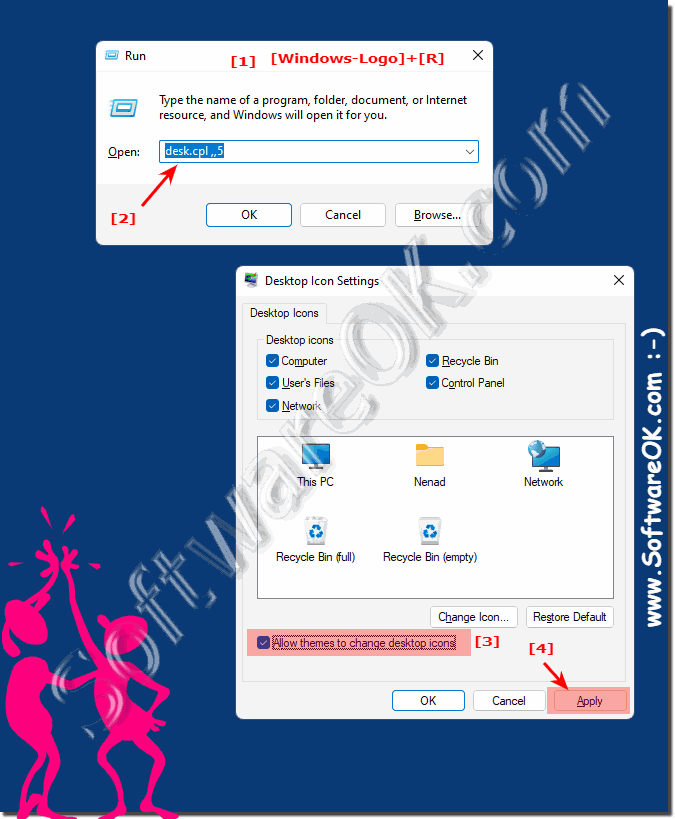 FAQ 253: Updated on: 28 June 2022 02:44