Deactivating and activating the window shadows under Windows 11 can be done very easily at any time without a great deal of specialist knowledge!
1.) Deactivating the window shadow under Windows 11!
Please open advanced system properties in Windows 11

1. [Windows-Logo + R] key combination and with the command sysdm.cpl 

2. Select the tab Advanced  

3. Select or open the performance options.

4. Performance group and the Settings button
5. And deactivate the
"Show
window shadow"
  check box in the
"Visual Effects"
tab
(
... see Image-1 Point 1 to 7
) 
(Image-1) Deactivate the window shadows under Windows 11!

2.) What happens if I work without window shadow under Windows 11?
The Windows 11 shadows are really big, relatively transparent and can be annoying. But Windows 11 is far from complete and Microsoft will be making many changes to functionality and design. Simply turning off the shadows is one of those future car updates that may be included as changes!


(Image-2) With and without window shadows under Windows 11!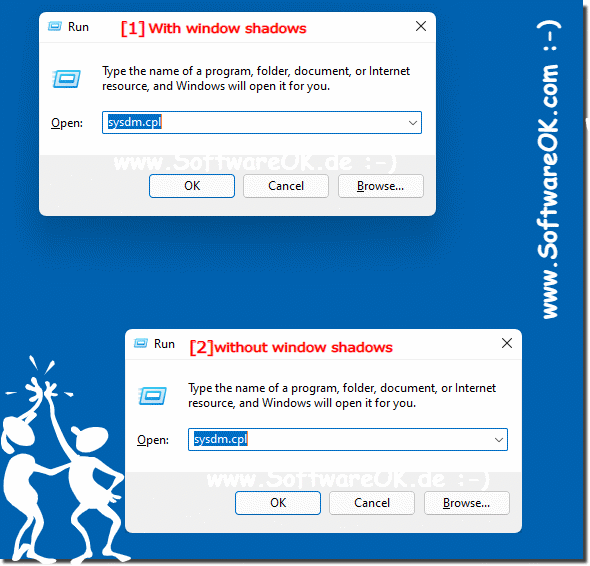 3.) ... Worauf sollte man achten beim Arbeiten ohne Fenster Schatten?


If you work in Windows 11 without window shadows, sometimes you close the wrong window because the transitions between windows are very difficult to see!



4.) What about the shadow copies on Windows 11?


The Shadow Copies service on Windows 11 is usually disabled but can be enabled quite easily!





 



FAQ 10: Updated on: 26 August 2023 06:21