Also Windows 11, like others, comes with a trash can icon on the desktop, but you can quickly hide it when it's not needed!


The recycle bin icon is generally very popular among users across all Windows operating systems. But some users want to see / have more of the operating system desktop and open the recycle bin via File Explorer. Anyway, here's a quick explanation. The process is no different for each Windows version.

Contents:




1.) Remove the recycle bin icon on Windows!
If you do not want the recycle bin desktop icon to be displayed on the desktop under MS Windows 11, 10, ..., please deactivate the recycle bin desktop icon on Windows to no longer see it!

1. Windows + R keyboard shortcut 

2. The  desk.cpl ,,5 command  

3. And deactivate the recycle bin desktop icons

(... see Image-1, Point 1 to 4)



(Image-1) Remove recycle bin icon in windows 11 or 10!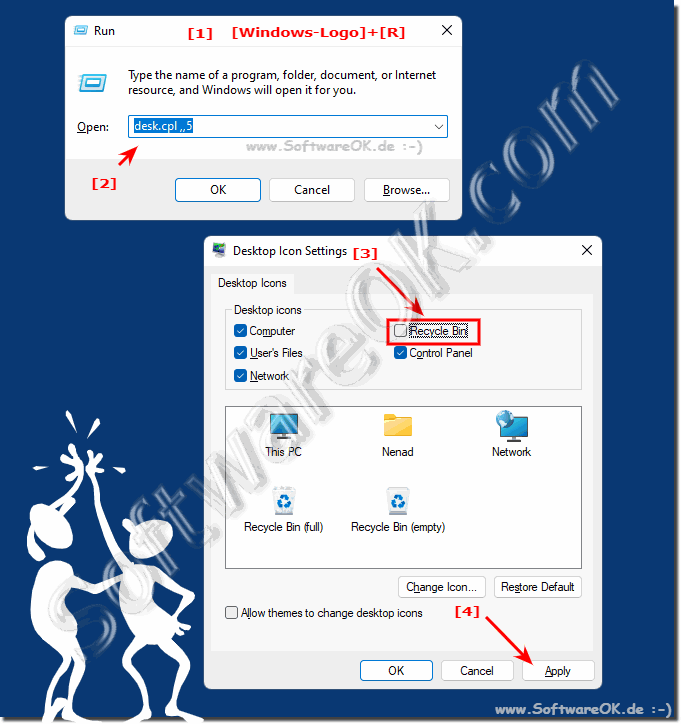 2.) More tips for a clean desktop!
A desktop with as few desktop icons as necessary is very important for many users. Even if there are users who are very meticulous with their desktop icons and even install software like ► Desktop-Okay to get their icons in order. But since the Windows 11 desktop can also be customized, here are a few tips that can help you more or less to organize it better, just click through and get informed.




PS:

If the Recycle Bin icon is removed from the desktop, please note that removing the Recycle Bin icon does not affect the actual Recycle Bin or the ability to delete files. You can still move files to the Trash and delete them from there even if the icon doesn't appear on the desktop.

 





FAQ 247: Updated on: 1 November 2023 17:53