If the printer won't print, you can use the specific printer troubleshooter in Windows 11, why not!
Content:
1.) Starting the printer troubleshooting under Windows 11!
1. In order to find the treatment for printer problems under Windows 11, as always, start the Windows 11 settings with the shortcut Windows + i . It's the fastest way.

2. Now you can directly enter the command or search term "printer" and you can already see that you are offered printers and scanners, click on "Printers and scanners".

1 & 2 b. Optional Windows + Q and enter the Term "printers" 

3. All printers that are installed on Windows 11 appear on the right side, select the printer with the problems by clicking on the arrow button to the right of the printer.

4. Now the respective options appear for the respective problem printer, including the "Run the troubleshooter" option, start the troubleshooter for the respective printer.

5. After that, the troubleshooter for the printer is started automatically. Common errors are usually recognized fairly well and you can apply the troubleshooting tips immediately.

(... see Image-1, Point 1 to 5) 



(Image-1) Use Troubleshooter for Printer on Windows 11!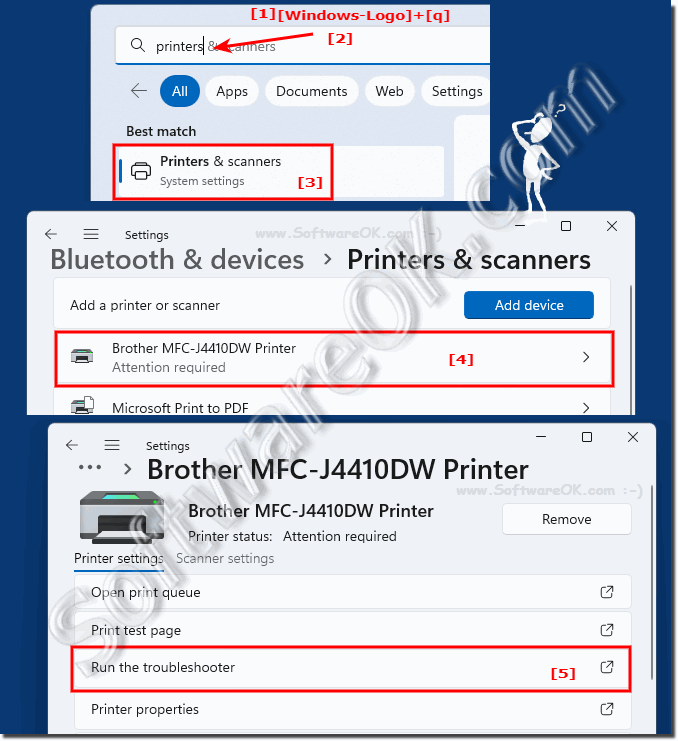 2.) What can I expect from the printer troubleshooting under Windows 11?
Of course, you can't expect miracles here, but with more modern printers there is communication between the operating system and the printer itself, even with WLAN printers or those connected via USB.

Of course, if the printer is switched on, something like this is possible. With older printers, it is more difficult because you have to troubleshoot yourself. Connection problems or hardware conflicts are detected.


3.) More tips and information about printers and co. on MS Windows 11 OS!
Even if printing is not exactly environmentally friendly, Windows 11 prints quite often and you need the printer for various reasons. Here you will find more help and tips on printing in Windows 11 and problems that you may encounter with the printers, which may help you to prevent problems or just to learn something new about printers in Windows 11.





FAQ 257: Updated on: 19 November 2022 09:38