If you want to display the digital desktop clock in the foreground and want to continue using the programs in an accessible way, you can change it quite easily!


Content:




1.) The solution: Desktop clock in the foreground and continue to use programs!
Please simply activate the option "Fixed at this position"

(... see Image-1, Point 1) 



user question 


Request for new feature: The clock should always be visible (foreground + forced), but a program placed behind the clock should still be operable. Most of the time this is the case, but if you have to click at a position that is behind a hand or a number on the clock, you will not be able to access the function of the other program. You can also clearly see the change in my mouse pointer from arrow to hand.



 

(Image-1) Keep using the desktop clock in the foreground over programs!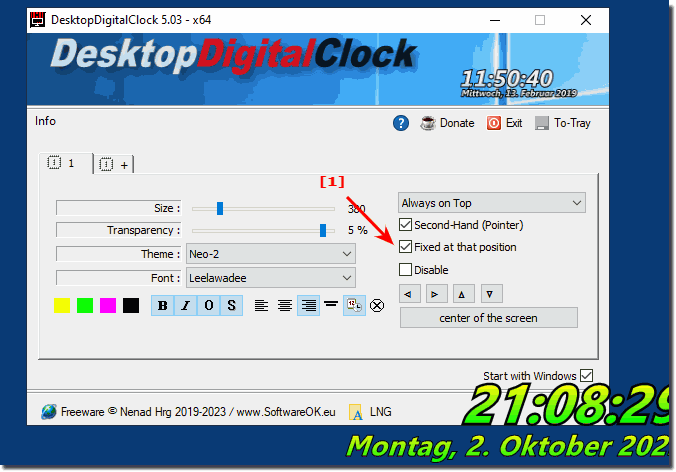 2.) Advantages and disadvantages of desktop clocks always in the foreground!

Adding a desktop clock to the foreground can be useful in certain situations, especially if you want to always keep track of the time without having to switch between windows or applications. This can be useful if you need to track time dependencies for tasks or projects, for example.




There are several ways to bring a desktop clock to the forefront:

Native operating system clock: Most operating systems, including Windows, macOS, and Linux, provide standard clock widgets or applications that you can place on your desktop.

This clock app is not a widget, it has advanced features such as different themes etc.

Whether this is "good" or not depends on your personal preferences and requirements. Here are some pros and cons:

Pros :

Quick time display:
You can quickly check the time at any time without having to switch between apps.
Time management:
It can help you better organize your time and meet deadlines.
Customization:
You can often customize the look and design of the desktop clock.

Cons:

Distraction:
A clock in the foreground can also be a distraction, especially if you tend to look at it often.
Clutter:
The clock takes up space on your desk, which can be annoying depending on your screen size and how you work.
Redundancy:
In Windows operating systems, the clock is already present in the taskbar, which can reduce the need for an additional desktop clock.



Info:

Ultimately it is a personal decision. If it suits you and helps you organize your work or everyday life, it is a good option. Otherwise, you can use your taskbar's default clock to keep track of the time.





FAQ 21: Updated on: 2 October 2023 19:07