If you want to give the recycle bin a different name in Windows 11, you can do it at any time, why not when renaming it is so easy!





With the latest Windows operating systems, it is no longer necessary to use the registry. to rename the trash! Here is a simple step-by-step guide on how to quickly rename your recycle bin.





Contents:



1.) Easily rename the recycle bin in Windows 11!
Here is a simple solution by renaming the recycle bin with the new identifier "Trash"

1. First focus on the Windows desktop with the shortcut Windows + D

2. Highlight the recycle bin on the desktop, if it is not activated you can use the recycle bin simply activate it on the desktop under Windows 11.

3. After highlighting the recycle bin, simply press the F2 key to rename the recycle bin, now type the new name for the recycle bin, here in the example "Trash"

4. The recycle bin on your Windows 11 already has a permanent new name, which you can then check directly in File Explorer.

(... see Image-1) 




(Image-1) Rename recycle bin on windows 11!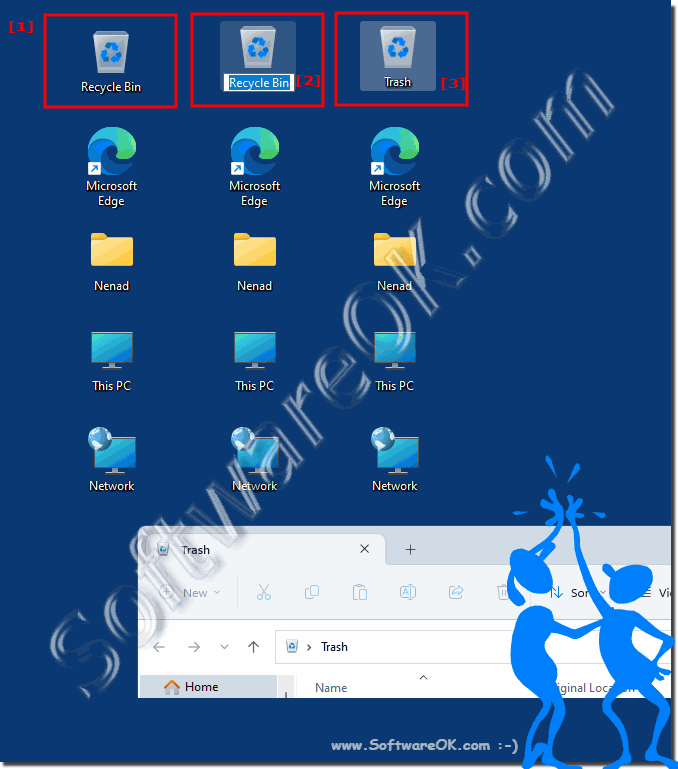 2.) More tips and information about the recycle bin in Windows!
If you have renamed the Windows 11 recycle bin, you can undo this action at any time and rename the recycle bin back to "Recycle Bin". Many users who have renamed the Recycle Bin go back to the old name because it is a well-chosen name by the Microsoft team.

Of course, it is up to you how you name your recycle bin and how often you rename it. The recycle bin is definitely a useful feature / folder that prevents us from prematurely losing files forever. Here are more tips about Recycle Bin on Windows 11.





FAQ 263: Updated on: 28 November 2022 18:37