Add or remove Shared Folders and Hard Drives in Windows 7 or change the settings, is best done through computer management in Windows 7 without to lose the overview!




Content / Solution / Tips:


1.) Removing / Stop folder and HD sharing on Windows-7! 
Start the Windows-7 computer management via compmgmt.msc command!

Here you can via mouse right click on the folder or drive change the sharing settings via the "Properties" option or directly "stop sharing". (... see Image-1 Arrow-1,2,3,4)



(Image-1) Stop Folders Sharing in Windows 7!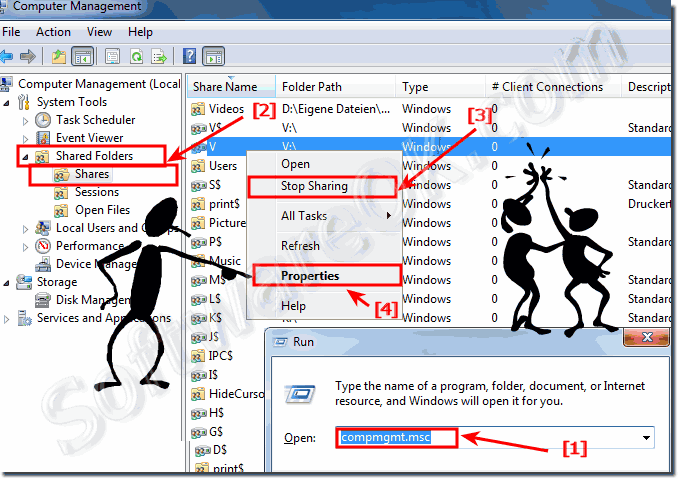 Important Users connected to a shared folder are disconnected when you stop sharing it on Windows-7. Users may lose data if you stop sharing a folder containing an open shared file without warning. When possible, notify users before you stop sharing a Windows-7 folder.


2.) Add folders or drives to the shared folder! 
Via mouse right-click on Shares (... see Image-2 Arrow-1) You can share additional folders or hard drives!



(Image-2) New Share Folders or HD in Windows 7!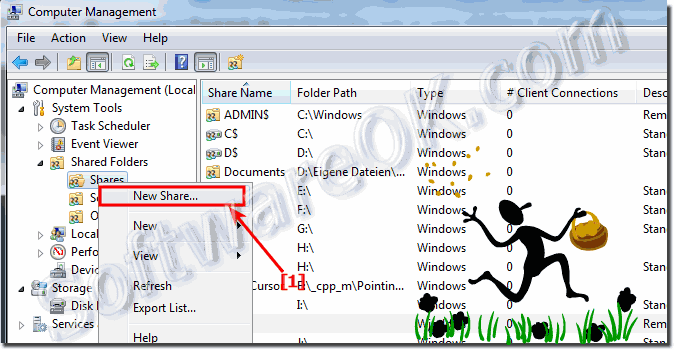 3.) Share It With the home network group!
With a right click on the shared folder and select "Properties", then click share permission and add user "Everyone".

And adjust the access permission "Full", "Change", "Read" (... see Image-3 Arrow-1)

For home network set on all PCs the same Work-Group:
See this: ...change Computer name and workgroup name (settings) in Windows 7!



(Image-3) Shared Folders for Home Network Group in Windows-7!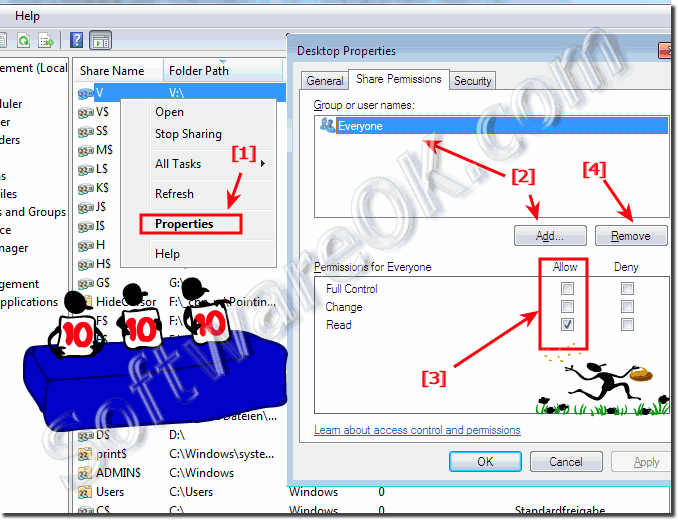 FAQ 102: Updated on: 7 November 2018 14:26