To see the
installed version of DirectX on the Windows

7 Computer, the example!



On the windows 7 is regular (default) DirectX 11.0 installed!

But if you want to see it: Open the "DirectX Diagnostic Tool" in Windows-7!

The Path of this DX Tool is C:\Windows\SysWOW64\dxdiag.exe and "C:\Windows\System32\dxdiag.exe"


Content / Tip:




1.) Start DirectX Diagnostic Tool in Windows!
1. Please press the key combination [Windows+Logo] [R]

2. and enter this text: dxdiag.exe 

(See Image-1)



(Image-1) Run dxdiag.exe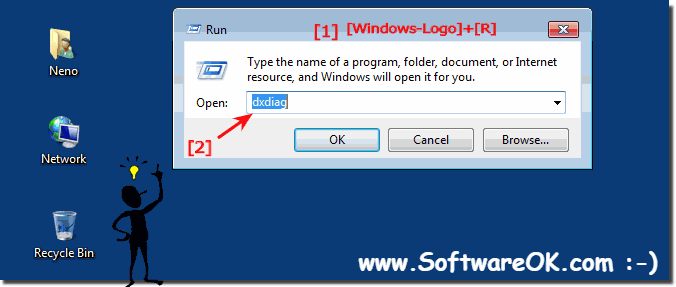 HOT-TIP:
... alternative to the standard Windows Run-Dialog.
2.) See the DirectX NR on your Windows-7!
In the "DirectX Diagnostic Tool" you can see the DirectX on your Windows-7 (Image-2)

If you want you can export (save) all DX-Information via simple click at the button
"Save All Information..." .

For many games you need additional DirectX Runtime: ... Download Microsoft DirectX® End-User Runtime!

Example-Export: All DX-Information on Win-7
------------------
System Information
------------------
Time of this report: 10/25/2010, 04:46:58
Machine name: JOHN-PC
Operating System: Windows 7 Professional 32-bit (6.1, Build 7600) (7600.win7_rtm.090713-1255)
Language: English (Regional Setting: English)
System Manufacturer: Microsoft Corporation
System Model: Virtual Machine
BIOS: BIOS Date: 02/22/06 20:54:49 Ver: 08.00.02
Processor: AMD Athlon(tm) 64 X2 Dual Core Processor 4200+, ~0MHz
Memory: 512MB RAM
Available OS Memory: 512MB RAM
Page File: 446MB used, 1088MB available
Windows Dir: C:\Windows
DirectX Version: DirectX 11
DX Setup Parameters: Not found
User DPI Setting: Using System DPI
System DPI Setting: 96 DPI (100 percent)
DWM DPI Scaling: Disabled
DxDiag Version: 6.01.7600.16385 32bit Unicode

------------
DxDiag Notes
------------
Display Tab 1: No problems found.
Sound Tab 1: No problems found.
Input Tab: No problems found.

--------------------
DirectX Debug Levels
--------------------
Direct3D: 0/4 (retail)
DirectDraw: 0/4 (retail)
DirectInput: 0/5 (retail)
DirectMusic: 0/5 (retail)
DirectPlay: 0/9 (retail)
DirectSound: 0/5 (retail)
DirectShow: 0/6 (retail)

---------------
Display Devices
---------------
Card name: VM Additions S3 Trio32/64
Manufacturer: Microsoft
Chip type: S3 732
DAC type: S3
Device Key: Enum\PCI\VEN_5333&DEV_8811&SUBSYS_00000000&REV_00
Display Memory: 8.0 MB
Dedicated Memory: n/a
Shared Memory: n/a
Current Mode: 1000 x 653 (32 bit) (1Hz)
Driver Name: vpc-s3
Driver File Version: 13.548.0000.0000 (English)
Driver Version: 13.548.0.0
DDI Version: unknown
Driver Model: unknown
Driver Attributes: Final Retail
Driver Date/Size: 11/17/2005 04:48:00, 76288 bytes
WHQL Logo'd: Yes
WHQL Date Stamp:
Device Identifier: {D7B75DD3-CB51-11CF-B063-00208BC0C035}
Vendor ID: 0x5333
Device ID: 0x8811
SubSys ID: 0x00000000
Revision ID: 0x0000
Driver Strong Name: Unknown
Rank Of Driver: Unknown
Video Accel:
Deinterlace Caps: n/a
D3D9 Overlay: n/a
DXVA-HD: n/a
DDraw Status: Enabled
D3D Status: Not Available
AGP Status: Not Available

-------------
Sound Devices
-------------
Description: Speakers (Microsoft Virtual Machine Audio Device Driver)
Default Sound Playback: Yes
Default Voice Playback: Yes
Hardware ID: PCI\VEN_1414&DEV_0007&SUBSYS_00000000&REV_00
Manufacturer ID: 1
Product ID: 100
Type: WDM
Driver Name: VIRTUALAUDIO.sys
Driver Version: 13.801.0000.0000 (English)
Driver Attributes: Final Retail
WHQL Logo'd: Yes
Date and Size: 12/27/2006 23:13:28, 38912 bytes
Other Files:
Driver Provider: Microsoft
HW Accel Level: Basic
Cap Flags: 0xF1F
Min/Max Sample Rate: 100, 200000
Static/Strm HW Mix Bufs: 1, 0
Static/Strm HW 3D Bufs: 0, 0
HW Memory: 0
Voice Management: No
EAX(tm) 2.0 Listen/Src: No, No
I3DL2(tm) Listen/Src: No, No
Sensaura(tm) ZoomFX(tm): No

---------------------
Sound Capture Devices
---------------------
Description: Microphone (Microsoft Virtual Machine Audio Device Driver)
Default Sound Capture: Yes
Default Voice Capture: Yes
Driver Name: VIRTUALAUDIO.sys
Driver Version: 13.801.0000.0000 (English)
Driver Attributes: Final Retail
Date and Size: 12/27/2006 23:13:28, 38912 bytes
Cap Flags: 0x1
Format Flags: 0xFFFFF

Description: Line In (Microsoft Virtual Machine Audio Device Driver)
Default Sound Capture: No
Default Voice Capture: No
Driver Name: VIRTUALAUDIO.sys
Driver Version: 13.801.0000.0000 (English)
Driver Attributes: Final Retail
Date and Size: 12/27/2006 23:13:28, 38912 bytes
Cap Flags: 0x1
Format Flags: 0xFFFFF

-------------------
DirectInput Devices
-------------------
Device Name: Mouse
Attached: 1
Controller ID: n/a
Vendor/Product ID: n/a
FF Driver: n/a

Device Name: Keyboard
Attached: 1
Controller ID: n/a
Vendor/Product ID: n/a
FF Driver: n/a

Poll w/ Interrupt: No

-----------
USB Devices
-----------

----------------
Gameport Devices
----------------

------------
PS/2 Devices
------------

------------------------
Disk & DVD/CD-ROM Drives
------------------------
Drive: C:
Free Space: 8.8 GB
Total Space: 15.4 GB
File System: NTFS
Model: Virtual HD ATA Device

Drive: D:
Model: MS C/DVD-ROM ATA Device
Driver: c:\windows\system32\drivers\cdrom.sys, 6.01.7600.16385 (English), 7/13/2009 16:11:26, 108544 bytes

--------------
System Devices
--------------
Name: VM Additions S3 Trio32/64
Device ID: PCI\VEN_5333&DEV_8811&SUBSYS_00000000&REV_00\3&267A616A&0&40
Driver: C:\Windows\system32\DRIVERS\vpc-s3.sys, 13.548.0000.0000 (English), 11/17/2005 04:48:00, 66560 bytes
Driver: C:\Windows\system32\vpc-s3.dll, 13.548.0000.0000 (English), 11/17/2005 04:48:00, 76288 bytes

Name: Microsoft Virtual Machine Audio Device Driver
Device ID: PCI\VEN_1414&DEV_0007&SUBSYS_00000000&REV_00\3&267A616A&0&60
Driver: C:\Windows\system32\drivers\VIRTUALAUDIO.sys, 13.801.0000.0000 (English), 12/27/2006 23:13:28, 38912 bytes
Driver: C:\Windows\system32\drivers\drmk.sys, 6.01.7600.16385 (English), 7/13/2009 17:41:37, 80896 bytes
Driver: C:\Windows\system32\drivers\portcls.sys, 6.01.7600.16385 (English), 7/13/2009 16:51:02, 177152 bytes

Name: Intel 21140-Based PCI Fast Ethernet Adapter (Emulated)
Device ID: PCI\VEN_1011&DEV_0009&SUBSYS_21140A00&REV_20\3&267A616A&0&50
Driver: C:\Windows\system32\DRIVERS\dc21x4vm.sys, 6.00.0000.0000 (English), 7/13/2009 15:02:49, 52224 bytes

Name: Intel 82443BX Pentium(R) II Processor to PCI Bridge
Device ID: PCI\VEN_8086&DEV_7192&SUBSYS_00000000&REV_03\3&267A616A&0&00
Driver: n/a

Name: Intel(R) 82371AB/EB PCI Bus Master IDE Controller
Device ID: PCI\VEN_8086&DEV_7111&SUBSYS_00000000&REV_01\3&267A616A&0&39
Driver: C:\Windows\system32\DRIVERS\intelide.sys, 6.01.7600.16385 (English), 7/13/2009 18:20:36, 15424 bytes
Driver: C:\Windows\system32\DRIVERS\pciidex.sys, 6.01.7600.16385 (English), 7/13/2009 18:19:03, 42560 bytes
Driver: C:\Windows\system32\DRIVERS\atapi.sys, 6.01.7600.16385 (English), 7/13/2009 18:26:15, 21584 bytes
Driver: C:\Windows\system32\DRIVERS\ataport.sys, 6.01.7600.16385 (English), 7/13/2009 18:26:15, 133200 bytes

Name: Intel 82371AB/EB PCI to ISA bridge (ISA mode)
Device ID: PCI\VEN_8086&DEV_7110&SUBSYS_00000000&REV_01\3&267A616A&0&38
Driver: C:\Windows\system32\DRIVERS\msisadrv.sys, 6.01.7600.16385 (English), 7/13/2009 18:20:43, 13888 bytes

------------------
DirectShow Filters
------------------

DirectShow Filters:
WMAudio Decoder DMO,0x00800800,1,1,WMADMOD.DLL,6.01.7600.16385
WMAPro over S/PDIF DMO,0x00600800,1,1,WMADMOD.DLL,6.01.7600.16385
WMSpeech Decoder DMO,0x00600800,1,1,WMSPDMOD.DLL,6.01.7600.16385
MP3 Decoder DMO,0x00600800,1,1,mp3dmod.dll,6.01.7600.16385
Mpeg4s Decoder DMO,0x00800001,1,1,mp4sdecd.dll,6.01.7600.16385
WMV Screen decoder DMO,0x00600800,1,1,wmvsdecd.dll,6.01.7600.16385
WMVideo Decoder DMO,0x00800001,1,1,wmvdecod.dll,6.01.7600.16385
Mpeg43 Decoder DMO,0x00800001,1,1,mp43decd.dll,6.01.7600.16385
Mpeg4 Decoder DMO,0x00800001,1,1,mpg4decd.dll,6.01.7600.16385
DV Muxer,0x00400000,0,0,qdv.dll,6.06.7600.16385
Color Space Converter,0x00400001,1,1,quartz.dll,6.06.7600.16385
WM ASF Reader,0x00400000,0,0,qasf.dll,12.00.7600.16385
Screen Capture filter,0x00200000,0,1,wmpsrcwp.dll,12.00.7600.16385
AVI Splitter,0x00600000,1,1,quartz.dll,6.06.7600.16385
VGA 16 Color Ditherer,0x00400000,1,1,quartz.dll,6.06.7600.16385
SBE2MediaTypeProfile,0x00200000,0,0,sbe.dll,6.06.7600.16385
Microsoft DTV-DVD Video Decoder,0x005fffff,2,4,msmpeg2vdec.dll,6.01.7140.0000
AC3 Parser Filter,0x00600000,1,1,mpg2splt.ax,6.06.7600.16385
StreamBufferSink,0x00200000,0,0,sbe.dll,6.06.7600.16385
Microsoft TV Captions Decoder,0x00200001,1,0,MSTVCapn.dll,6.01.7600.16385
MJPEG Decompressor,0x00600000,1,1,quartz.dll,6.06.7600.16385
CBVA DMO wrapper filter,0x00200000,1,1,cbva.dll,6.01.7600.16385
MPEG-I Stream Splitter,0x00600000,1,2,quartz.dll,6.06.7600.16385
SAMI (CC) Parser,0x00400000,1,1,quartz.dll,6.06.7600.16385
VBI Codec,0x00600000,1,4,VBICodec.ax,6.06.7600.16385
MPEG-2 Splitter,0x005fffff,1,0,mpg2splt.ax,6.06.7600.16385
Closed Captions Analysis Filter,0x00200000,2,5,cca.dll,6.06.7600.16385
SBE2FileScan,0x00200000,0,0,sbe.dll,6.06.7600.16385
Microsoft MPEG-2 Video Encoder,0x00200000,1,1,msmpeg2enc.dll,6.01.7600.16385
Internal Script Command Renderer,0x00800001,1,0,quartz.dll,6.06.7600.16385
MPEG Audio Decoder,0x03680001,1,1,quartz.dll,6.06.7600.16385
DV Splitter,0x00600000,1,2,qdv.dll,6.06.7600.16385
Video Mixing Renderer 9,0x00200000,1,0,quartz.dll,6.06.7600.16385
Microsoft MPEG-2 Encoder,0x00200000,2,1,msmpeg2enc.dll,6.01.7600.16385
ACM Wrapper,0x00600000,1,1,quartz.dll,6.06.7600.16385
Video Renderer,0x00800001,1,0,quartz.dll,6.06.7600.16385
MPEG-2 Video Stream Analyzer,0x00200000,0,0,sbe.dll,6.06.7600.16385
Line 21 Decoder,0x00600000,1,1,qdvd.dll,6.06.7600.16385
Video Port Manager,0x00600000,2,1,quartz.dll,6.06.7600.16385
Video Renderer,0x00400000,1,0,quartz.dll,6.06.7600.16385
VPS Decoder,0x00200000,0,0,WSTPager.ax,6.06.7600.16385
WM ASF Writer,0x00400000,0,0,qasf.dll,12.00.7600.16385
VBI Surface Allocator,0x00600000,1,1,vbisurf.ax,6.01.7600.16385
File writer,0x00200000,1,0,qcap.dll,6.06.7600.16385
iTV Data Sink,0x00600000,1,0,itvdata.dll,6.06.7600.16385
iTV Data Capture filter,0x00600000,1,1,itvdata.dll,6.06.7600.16385
DVD Navigator,0x00200000,0,3,qdvd.dll,6.06.7600.16385
Microsoft TV Subtitles Decoder,0x00200001,1,0,MSTVCapn.dll,6.01.7600.16385
Overlay Mixer2,0x00200000,1,1,qdvd.dll,6.06.7600.16385
AVI Draw,0x00600064,9,1,quartz.dll,6.06.7600.16385
RDP DShow Redirection Filter,0xffffffff,1,0,DShowRdpFilter.dll,
Microsoft MPEG-2 Audio Encoder,0x00200000,1,1,msmpeg2enc.dll,6.01.7600.16385
WST Pager,0x00200000,1,1,WSTPager.ax,6.06.7600.16385
MPEG-2 Demultiplexer,0x00600000,1,1,mpg2splt.ax,6.06.7600.16385
DV Video Decoder,0x00800000,1,1,qdv.dll,6.06.7600.16385
SampleGrabber,0x00200000,1,1,qedit.dll,6.06.7600.16385
Null Renderer,0x00200000,1,0,qedit.dll,6.06.7600.16385
MPEG-2 Sections and Tables,0x005fffff,1,0,Mpeg2Data.ax,6.06.7600.16385
Microsoft AC3 Encoder,0x00200000,1,1,msac3enc.dll,6.01.7600.16385
StreamBufferSource,0x00200000,0,0,sbe.dll,6.06.7600.16385
Smart Tee,0x00200000,1,2,qcap.dll,6.06.7600.16385
Overlay Mixer,0x00200000,0,0,qdvd.dll,6.06.7600.16385
AVI Decompressor,0x00600000,1,1,quartz.dll,6.06.7600.16385
NetBridge,0x00200000,2,0,netbridge.dll,6.01.7600.16385
AVI/WAV File Source,0x00400000,0,2,quartz.dll,6.06.7600.16385
Wave Parser,0x00400000,1,1,quartz.dll,6.06.7600.16385
MIDI Parser,0x00400000,1,1,quartz.dll,6.06.7600.16385
Multi-file Parser,0x00400000,1,1,quartz.dll,6.06.7600.16385
File stream renderer,0x00400000,1,1,quartz.dll,6.06.7600.16385
Microsoft DTV-DVD Audio Decoder,0x005fffff,1,1,msmpeg2adec.dll,6.01.7140.0000
StreamBufferSink2,0x00200000,0,0,sbe.dll,6.06.7600.16385
AVI Mux,0x00200000,1,0,qcap.dll,6.06.7600.16385
Line 21 Decoder 2,0x00600002,1,1,quartz.dll,6.06.7600.16385
File Source (Async.),0x00400000,0,1,quartz.dll,6.06.7600.16385
File Source (URL),0x00400000,0,1,quartz.dll,6.06.7600.16385
Media Center Extender Encryption Filter,0x00200000,2,2,Mcx2Filter.dll,6.01.7600.16385
AudioRecorder WAV Dest,0x00200000,0,0,WavDest.dll,
AudioRecorder Wave Form,0x00200000,0,0,WavDest.dll,
SoundRecorder Null Renderer,0x00200000,0,0,WavDest.dll,
Infinite Pin Tee Filter,0x00200000,1,1,qcap.dll,6.06.7600.16385
Enhanced Video Renderer,0x00200000,1,0,evr.dll,6.01.7600.16385
BDA MPEG2 Transport Information Filter,0x00200000,2,0,psisrndr.ax,6.06.7600.16385
MPEG Video Decoder,0x40000001,1,1,quartz.dll,6.06.7600.16385

WDM Streaming Tee/Splitter Devices:
Tee/Sink-to-Sink Converter,0x00200000,1,1,ksproxy.ax,6.01.7600.16385

Video Compressors:
WMVideo8 Encoder DMO,0x00600800,1,1,wmvxencd.dll,6.01.7600.16385
WMVideo9 Encoder DMO,0x00600800,1,1,wmvencod.dll,6.01.7600.16385
MSScreen 9 encoder DMO,0x00600800,1,1,wmvsencd.dll,6.01.7600.16385
DV Video Encoder,0x00200000,0,0,qdv.dll,6.06.7600.16385
MJPEG Compressor,0x00200000,0,0,quartz.dll,6.06.7600.16385
Cinepak Codec by Radius,0x00200000,1,1,qcap.dll,6.06.7600.16385
Intel IYUV codec,0x00200000,1,1,qcap.dll,6.06.7600.16385
Intel IYUV codec,0x00200000,1,1,qcap.dll,6.06.7600.16385
Microsoft RLE,0x00200000,1,1,qcap.dll,6.06.7600.16385
Microsoft Video 1,0x00200000,1,1,qcap.dll,6.06.7600.16385

Audio Compressors:
WM Speech Encoder DMO,0x00600800,1,1,WMSPDMOE.DLL,6.01.7600.16385
WMAudio Encoder DMO,0x00600800,1,1,WMADMOE.DLL,6.01.7600.16385
IMA ADPCM,0x00200000,1,1,quartz.dll,6.06.7600.16385
PCM,0x00200000,1,1,quartz.dll,6.06.7600.16385
Microsoft ADPCM,0x00200000,1,1,quartz.dll,6.06.7600.16385
GSM 6.10,0x00200000,1,1,quartz.dll,6.06.7600.16385
CCITT A-Law,0x00200000,1,1,quartz.dll,6.06.7600.16385
CCITT u-Law,0x00200000,1,1,quartz.dll,6.06.7600.16385
MPEG Layer-3,0x00200000,1,1,quartz.dll,6.06.7600.16385

Audio Capture Sources:
Microphone (Microsoft Virtual M,0x00200000,0,0,qcap.dll,6.06.7600.16385
Line In (Microsoft Virtual Mach,0x00200000,0,0,qcap.dll,6.06.7600.16385

PBDA CP Filters:
PBDA DTFilter,0x00600000,1,1,CPFilters.dll,6.06.7600.16385
PBDA ETFilter,0x00200000,0,0,CPFilters.dll,6.06.7600.16385
PBDA PTFilter,0x00200000,0,0,CPFilters.dll,6.06.7600.16385

Midi Renderers:
Default MidiOut Device,0x00800000,1,0,quartz.dll,6.06.7600.16385
Microsoft GS Wavetable Synth,0x00200000,1,0,quartz.dll,6.06.7600.16385

WDM Streaming Capture Devices:
Microsoft Virtual Machine Audio Card,0x00200000,2,2,ksproxy.ax,6.01.7600.16385

WDM Streaming Rendering Devices:
Microsoft Virtual Machine Audio Card,0x00200000,2,2,ksproxy.ax,6.01.7600.16385

BDA Network Providers:
Microsoft ATSC Network Provider,0x00200000,0,1,MSDvbNP.ax,6.06.7600.16385
Microsoft DVBC Network Provider,0x00200000,0,1,MSDvbNP.ax,6.06.7600.16385
Microsoft DVBS Network Provider,0x00200000,0,1,MSDvbNP.ax,6.06.7600.16385
Microsoft DVBT Network Provider,0x00200000,0,1,MSDvbNP.ax,6.06.7600.16385
Microsoft Network Provider,0x00200000,0,1,MSNP.ax,6.06.7600.16385

Multi-Instance Capable VBI Codecs:
VBI Codec,0x00600000,1,4,VBICodec.ax,6.06.7600.16385

BDA Transport Information Renderers:
BDA MPEG2 Transport Information Filter,0x00600000,2,0,psisrndr.ax,6.06.7600.16385
MPEG-2 Sections and Tables,0x00600000,1,0,Mpeg2Data.ax,6.06.7600.16385

BDA CP/CA Filters:
Decrypt/Tag,0x00600000,1,1,EncDec.dll,6.06.7600.16385
Encrypt/Tag,0x00200000,0,0,EncDec.dll,6.06.7600.16385
PTFilter,0x00200000,0,0,EncDec.dll,6.06.7600.16385
XDS Codec,0x00200000,0,0,EncDec.dll,6.06.7600.16385

WDM Streaming Communication Transforms:
Tee/Sink-to-Sink Converter,0x00200000,1,1,ksproxy.ax,6.01.7600.16385

Audio Renderers:
Speakers (Microsoft Virtual Mac,0x00200000,1,0,quartz.dll,6.06.7600.16385
Default DirectSound Device,0x00800000,1,0,quartz.dll,6.06.7600.16385
Default WaveOut Device,0x00200000,1,0,quartz.dll,6.06.7600.16385
DirectSound: Speakers (Microsoft Virtual Machine Audio Device Driver),0x00200000,1,0,quartz.dll,6.06.7600.16385

---------------
EVR Power Information
---------------
Current Setting: {651288E5-A7ED-4076-A96B-6CC62D848FE1} (Balanced)
Quality Flags: 2576
Enabled:
Force throttling
Allow half deinterlace
Allow scaling
Decode Power Usage: 100
Balanced Flags: 1424
Enabled:
Force throttling
Allow batching
Force half deinterlace
Force scaling
Decode Power Usage: 50
PowerFlags: 1424
Enabled:
Force throttling
Allow batching
Force half deinterlace
Force scaling
Decode Power Usage: 0




Userful info from (c) Microsoft about Diagnosing basic problems with DirectX


If you're having problems getting a game or movie to play properly, the DirectX Diagnostic Tool can help you pinpoint the source. DirectX is a suite of technologies used by many of the multimedia programs in Windows.

Click to start the DirectX Diagnostic Tool.

What to look for Once the Diagnostic Tool has finished, here are three key things to check:

Check your video card  Some programs run very slowly or not at all unless Microsoft DirectDraw or Direct3D hardware acceleration is turned on. To determine this, click the Display tab, and then under DirectX Features, check to see whether DirectDraw, Direct3D, and AGP Texture Acceleration appear as Enabled. If not, try turning on hardware acceleration.

Click the Troubleshoot tab, and then click Change settings. Administrator permission required If you are prompted for an administrator password or confirmation, type the password or provide confirmation.

Move the Hardware Acceleration slider to Full. If that fails, you might need to update the video driver or the card, itself. You can typically find the latest drivers for your hardware in the support section of the manufacturer's website.

Check your game controller If a joystick or other input device fails to respond, it might not be installed correctly.

Make sure the device shows up on the Input tab. If not, reinstall the device according to the manufacturer's instructions. If it's a USB device, unplug it and then plug it back in.

Check for "unsigned" drivers A driver that's been digitally signed has been tested by the Microsoft Windows Hardware Quality Lab for DirectX compatibility. If the Diagnostic Tool flags an unsigned driver, updating the driver might solve your problem. You can typically find the latest driver for your hardware on the support section of the manufacturer's website.

FAQ 38: Updated on: 2 June 2022 19:41