To change Short date / time and Long date / time format in Windows 10, 8.1, 7.0, ... and other MS-OS!

You can easy Select the date and time formats on every Microsoft Windows OS that you want to use. To further customize how the date, time, currency, and measurements are displayed, This solution is is also for Windows 10 and Web Server 2016/2012!


1.) Solution 1: via Region and Language in Control Panel!
Please open the Customize Format tab Date Dialog in "Region and Language" settings.

Open Region and Language see: ...How to Change in Windows-7 the display of dates

And click Additional settings (see Image Arrow-1) and  click or tap Time  (see Image Arrow-2) change Short date
and/or Long date format in Windows-7!  (... see Image-1)




Image-1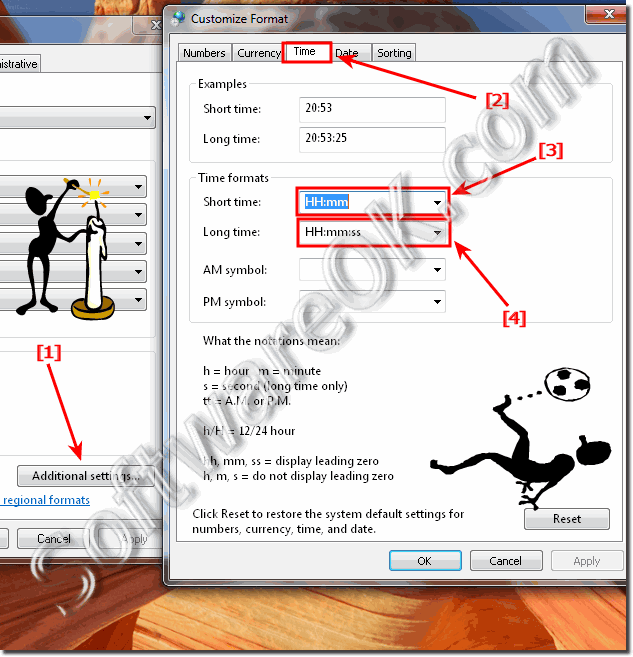 How to change Short date and/or Long date format in Windows-7?
Time notations
This
Displays
Time notations
h
Hour (hh displays the hour with a leading zero)
m
Minute (mm displays the minute with a leading zero)
s
Second (ss displays the second with a leading zero)
tt
A.M. or P.M.
h/H
12 or 24 hour time display
 
Date notations
d, dd
Day
ddd, dddd
Day of the week
M
Month
y
Year
2.) Solution 2: via Run-Dialog change time formats!

1. Open the window "Region - Customize the format" in Windows 10 / 8.1 / 8.

2. For example, via Windows Run dialog Windows + R shortcut and the command: intl.cpl

 

 

3. And now click on the Formats tabs , and change the time format and date format

3.b.) or other number formats! (

... see Image-2 Point 1 to 3

) 




(Image-2) Change the windows date and time format!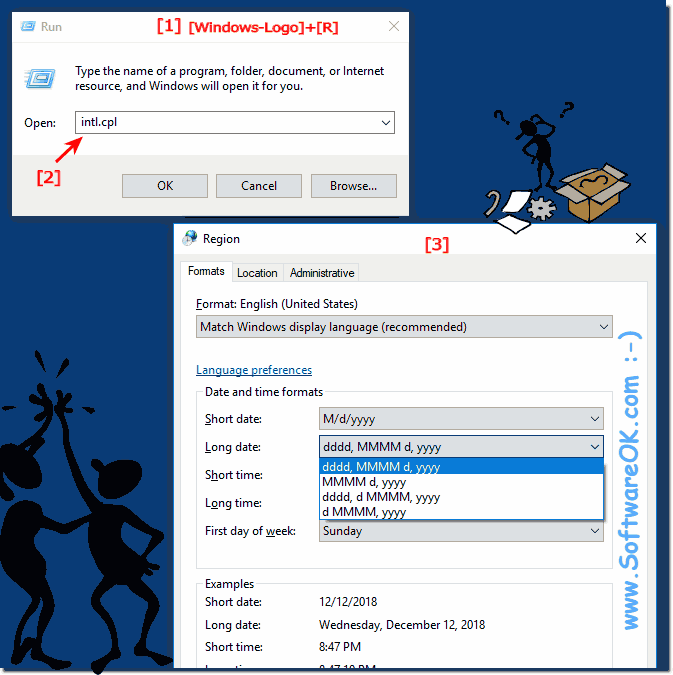 FAQ 79: Updated on: 2 June 2022 19:18