To open the real Desktop folder path in Windows 8.1, 10, 11 and Windows-7, please start the MS-Explorer!





The real desktop directory (folder) and the desktop you see are not on Windows and not the same, here is a simple example of how to open these folders, to clear the question of many users what is the path name of the desktop in windows an how to find Desktop background folder! 



 

Content / Example / Tip:


1.) Opening the standard desktop under Windows! 
Run the Explorer via keyboard shortcut [Windows + E] and type in the address-bar the address:
is 

shell:UsersFilesFolder\Desktop

 and not 

%UserProfile%\Desktop 

(... see Image-1 Arrow-1)

Does not work on the Run-Command Dialog [Windows R], in Windows 8 / 8.1!

See also: ... windows 8.1 all users desktop location to customize and edit! 

And other nice paths for MS-Explorer and ... file manager Q-Dir in Windows 8/8.1:  
shell:Libraries, shell:MusicLibrary, shell:VideosLibrary, shell:OtherUsersFolder, shell:Device Metadata Store,
shell:PublicSuggestedLocations, shell:DocumentsLibrary, shell:User Pinned, shell:UsersLibrariesFolder,
shell:PicturesLibrary, shell:ImplicitAppShortcuts, shell:Ringtones, shell:CommonRingtones ... more shell:folders  

Tip: Address-Bar-Focus: [F4]

See also: ... see hidden files and folder and extensions in Windows 8 / 10 || ... desktop background in Windows 8.1 and 10 



Image-1

The real Desktop folder path and directory in Windows 8

2.) Open another real desktop folder! 
C:\users or the command 
shell:UserProfiles
, here you can see and modify all user folders, add copy or delete data. To have full access to all folders, of course, you need full administrator rights.  
The command  shell:UserProfiles  you can simply start with the keyboard shortcut Windows + R!  
Each user has a private folder in which one is desktop folder  is, quite simply can links between the user account from a  desktop folder  to another desktop folder to copy or move.


(Image-2) All Desktops folders path on all Windows!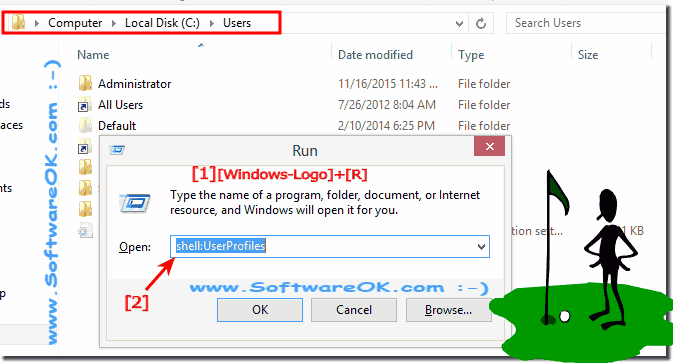 Please start the File-Explorer for example via Keyboardshortcut [Windows-Logo]+[E] and open the



Default Wallpaper Folder: 

C:\Windows\Web\Wallpaper

or

%windir%\Web\Wallpaper



Optional Keyboardshortcut [Windows-Logo]+[R] and  (... see Image-3 Point 1 and 2)



(Image-3) Desktop Background Folder path in Windows 8.1 plus 10!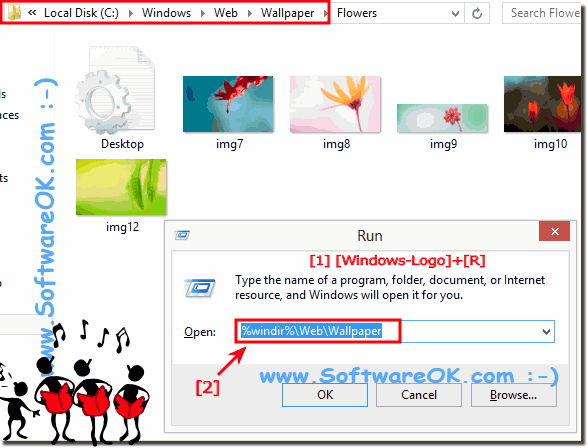 FAQ 103: Updated on: 1 September 2022 12:33