If downloading the Windows ISO file you stand there and wants to create installation DVD from the ISO file for Windows 10 or 8.1, but the solution is simple!
On Windows 7 and

Everyone knows Windows 10, 8.1, ... legally download ISOs solution, on Windows you can burn ISO files directly! But if you, for example, want to create an installations USB stick, or have not installed burning software on XP, there is a problem!




Here is Microsoft's free solution! :-)

Legal Download

So if you don't have burning software, or want to create a bootable USB STICK for Windows 7 or 8 install from a USB stick, 

please download the Windows 7 USB/DVD Tool and install it. It also works for creating Windows 8.1 boot or installation DVD, or a USB install stick!

Download:

... Windows7-USB-DVD-tool.exe



If the NET 2 is not installed in your Windows (XP), you need the NET Framework v2 and the Image Mastering API v2.
The NET Framework can be downloaded here and the Image Mastering API here.

An advanced guide on MS site: ... in English

ATTENTION!
Make sure the disc should not be a dual-layer DVD disc. Currently, dual-layer DVDs are not supported by this tool.

Here is a picture of this MS tool:



(Image-1) Create Installation DVD from the Windows ISO file!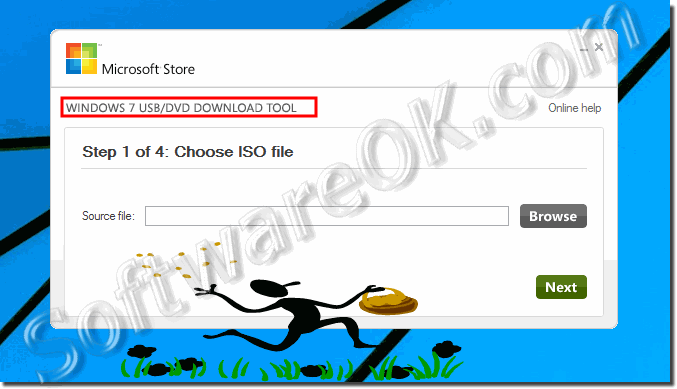 When you choose to download most software from the Microsoft Store, you have the option of using Download Manager or downloading from your browser. However, when you purchase Microsoft Windows 7, 8.1 from Microsoft Store, you have an additional choice to make: whether to download a collection of compressed files or to download an ISO file. An ISO file combines all the Windows 7, 8.1 installation files into a single uncompressed file.

NOTE:
When you download the ISO file, you must copy the file onto a USB flash drive or a DVD to install Windows 8.1 When you're ready to install Windows 8.1, insert the USB flash drive into your USB port or insert your DVD into your DVD drive, and then run Setup.exe from the root folder on the drive.

FAQ 195: Updated on: 12 May 2020 20:31