You don't have to be a hacker to illegally download Windows 10, 8.1, ... ISOs if you can do it legally!
1.) Download the current and legal Windows!
Please use this link for Windows 8 / 8.1:
https://www.microsoft.com/en-us/software-download/windows8ISO
Please use this link for Windows 10:
https://www.microsoft.com/software-download/windows10
Open
your Windows download folder
 and start the legal
"Media Creation Tool"
(
... see Image-1 Point 1 to 3
)
(Image-1) Windows 10, 8.1, ... legally download ISOs?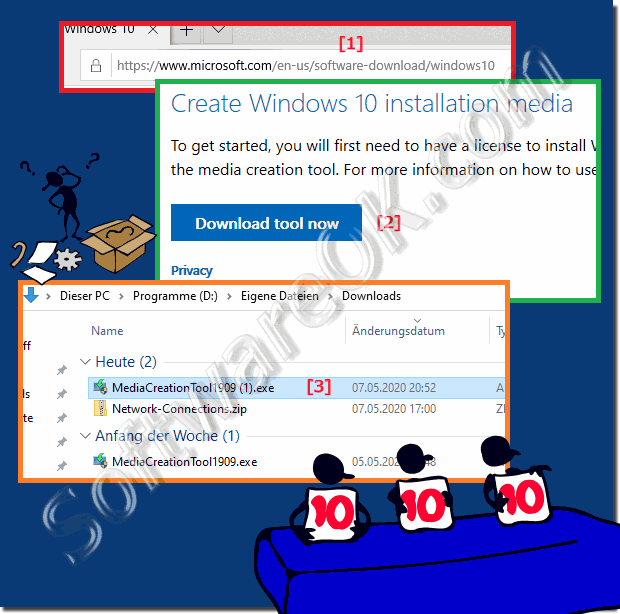 2.) Select the installation medium!
If you have a USB stick at hand, it is practical to use it so that you do
not have to create a USB installation stick
  afterwards , and you also have to agree to the new license agreement! With an
ISO file you can burn it as a DVD at any time
.
(Image-2) Download Windows absolutely legally!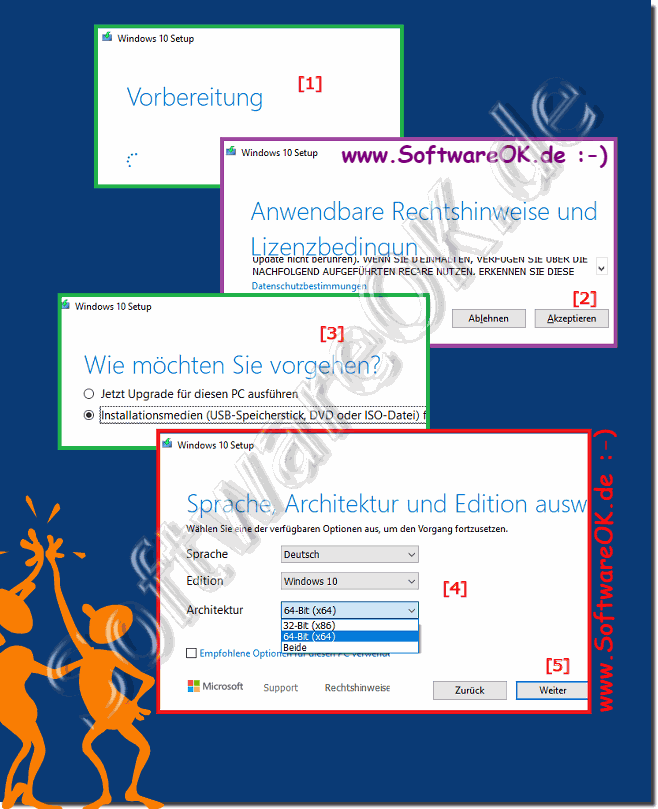 Note:
The Microsoft Tool suggests a language and
architecture x64 and x32
for Windows based on information from your PC. If you want to use the installation medium on this PC, simply click on "Next" without hesitation. However, if you want to do the installation on another PC, deactivate the corresponding checkbox "Use recommended options for this PC" (
... see Image-2
)  select options that are more suitable for your license!

3.) What should I not do when downloading?
When downloading Should the internet connection not
be interrupted or deactivating the WLAN
is also not an advantage. There are a few ways to do this, but they're all straight forward and tight - you don't have to visit Darknet BitTorrent site to download ISOs that may be flooded with
viruses, malware, and Trojans
. Instead, you get official installation media directly from Microsoft.