It is very easy and simple to Print Images e.g. Pictures in Windows 8.1 or Win 10 MS-Windows-File-Explorer!




 

Content / Solution:



1.) Multiple pictures or one selection for Image Print on Windows 8.1/10!
Please open the MS-Explorer and select one or multiple Images that you want to print. 


And then, do a right click with the mouse on the selected images, to open the context menu and select

Print

.  
(... see Image-1 Arrow-1)




(Image-1) Print Images in Windows 8.1!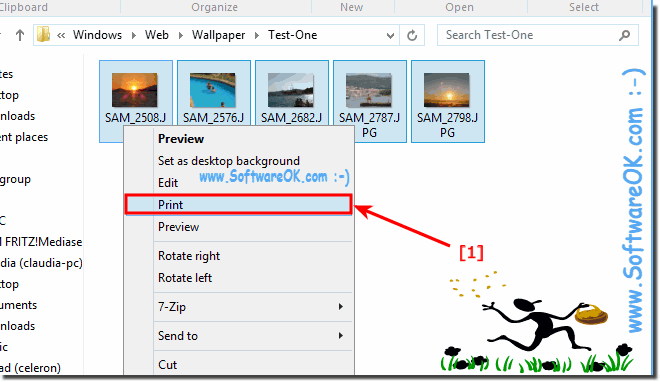 2.) Customize Print and Paper Page Sizes in Windows photo print feature!

And now in Windows 8.1 / 10 Photo Viewer . (... see Image-2 Arrow-1,2,3,4,5) 

# change print sizes in Windows Photo Viewer!
# print several different pictures on a single page!
# change paper size, paper type and print quality!
# and .... 




(Image-2) Print multiple Images in Windows on one Page!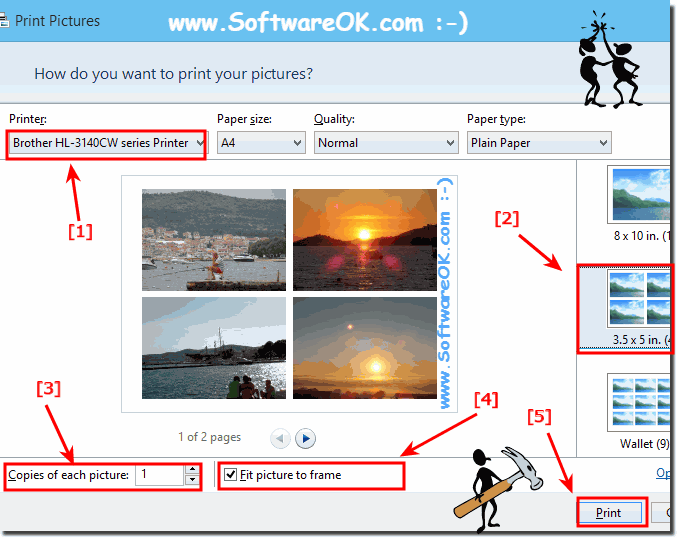 Info (c) Microsoft:


The Windows 8.1 Photo Viewer offers a list of templates that correspond to the most common print sizes, including 4 x 6, 8 x 10, and wallet-sized photos.

To print several smaller pictures on one page, right-click the pictures you want, and then click Print. You'll see a preview of your picture in the Print Pictures dialog box. Depending on the number of pictures you're printing, you might use more than one sheet of paper. (... see Image-2 Arrow-2)

The type of paper that you use to print your pictures could be the single most important factor in determining print quality. You might use plain paper or inkjet paper for routine printing, but to make a high-quality print suitable for framing, you should use a premium glossy or matte photo paper. For best results, be sure to match the paper type option with what you have in the printer. (... see Image-2 Arrow-4) 



FAQ 230: Updated on: 7 October 2020 12:51