The solution is simple to
Fix Bad Desktop Icons in Windows 11 and 10

and also on MS Windows Server!

Sometimes, nobody knows why, desktop icons in famous Windows 10 are no longer displayed correctly. You start up the Computer and where there used to be a nice Icons, suddenly you just see a blank desktop sheet. That's really annoying! The Solution to Fix Bad Desktop Icons in Windows 10!

Info: Unfortunately, the same thing happened on Windows 7 and 8.1!
1.) Resolve the Bad Desktop Icons in Windows 10/11!
Please open the
Window 10 Control Panel
for example about
Windows 10 search bar
Windows-Logo + Q and enter "control"  and start the control pane.
And now easy enter in the search [F3] Explorer and open
File Explorer Options
! 
Select the tab View and  and set the corresponding check mark the
"Show hidden files, folders and drives"
option Show. Remove checkmark from
"Hide Protected System Files (Recommended)"
(
... see Image-1
) press OK Button!
(Image-1) Fix Desktop Icons in Windows 10/11!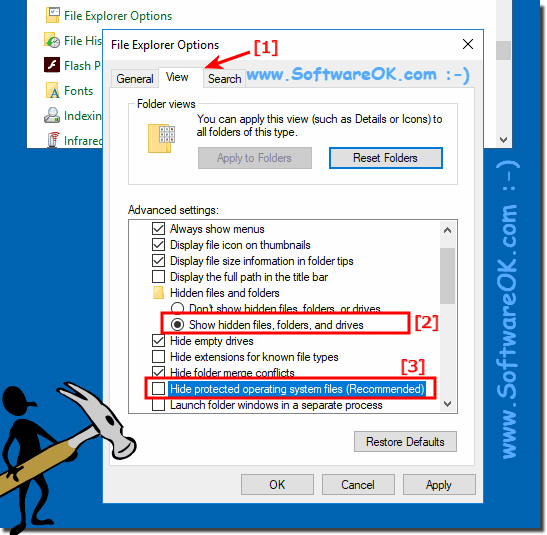 Activate ego Execute  %localappdata%  (press the Waste key + R keys at the same time)
In  the
Windows 10 Run Dialog
press OK or [Enter] . A explorer window will open. Right-click and delete the file IconCache.db and Restart the computer. 
After the restart, all your icons should be displayed correctly again. Hopefully, Microsoft will release an official fix for this bug.
(Image-2) Fix Bad Desktop Icons in Windows 10!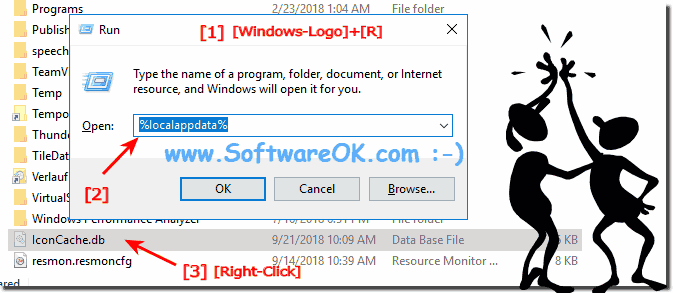 2.) Other tips about Windows 10 Desktop Icons!