It is easy to give more fonts for Windows 11, 10, ... command prompt !!


Everyone has ► changed the color, font, etc. for the command prompt / CMD ...  may also have noticed that not all fonts that are available in the Windows Fonts folder are offered, if you want to change that, why not, if it is possible!





1.) Activate additional fonts for the Windows CMD
After you have installed the Windows font

1. Start the registry editor ( Windows + R command regedit ) 

2. Open the registry folder:
HKEY_LOCAL_MACHINE\SOFTWARE\Microsoft\Windows NT\CurrentVersion\Console\TrueTypeFont

3. Create a new character string 

4. For the first, second, ... font 01, 02, ... etc.

5. Enter the name of the respective font 

(... see Image-1 Point 1 to 4)

In  this example,  Roboto Mono works and Ubuntu Mono under Windows 11, but also on all other MS Windows desktop and server operating systems!



(Image-1) Share more fonts for Windows 11, 10, ... command prompt!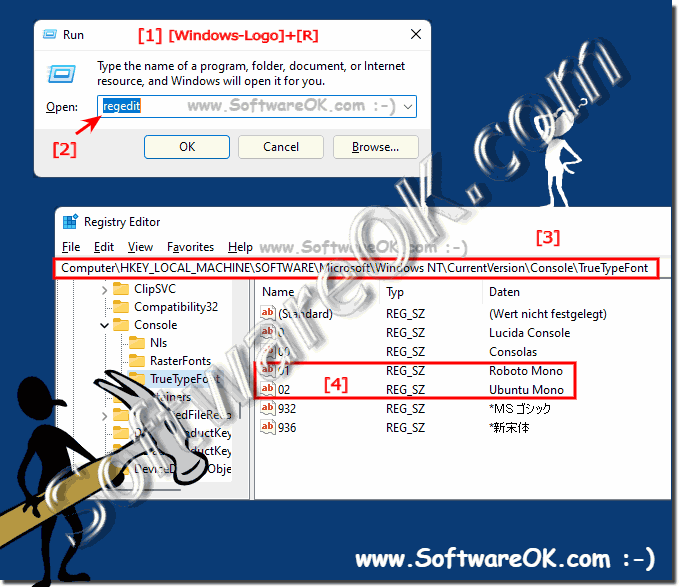 2.) ... Activate / use the new font in the CMD.exe!



1. Start the command prompt as usual 

2. Right click on the cmd.exe title bar and select Properties

3. Now simply select the font, here in the example  Ubuntu Mono  under Windows 11 

4. Confirm the new font with the [OK] button

(... see Image-2 Point 1 to 7)



(Image-2) Use new fonts for the Windows command prompt!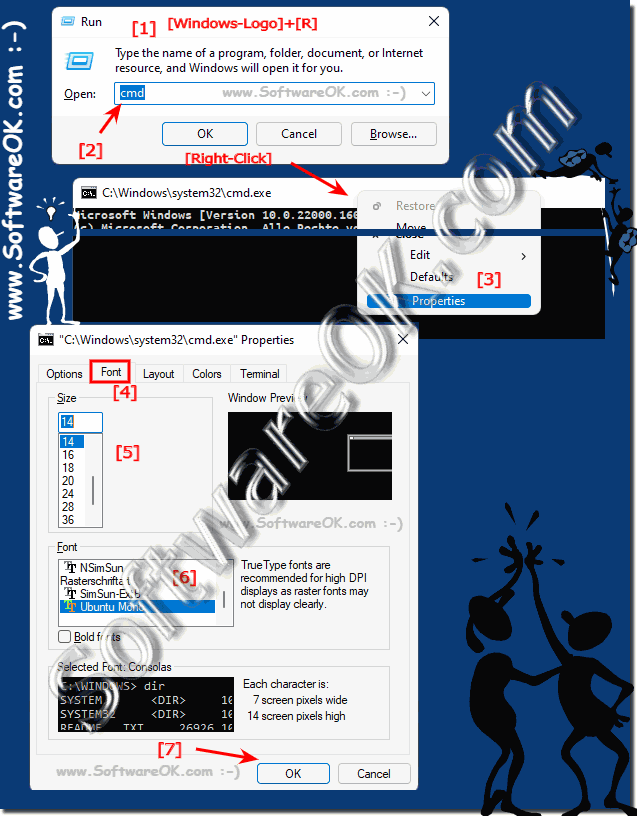 3.) Which fonts can I activate and what needs to be considered!
The command prompt only accepts fixed-width fonts, so it must be fixed-width fonts to be worth the effort, search the web to find fonts that work like this Ubuntu Mono font!

On the page https://en.wikipedia.org/wiki/List_of_monospaced_typefaces  you may find the right font for your input request!







    





FAQ 111: Updated on: 26 August 2023 10:55