Creating symbols, also known as icons, can be done for Microsoft Windows and other operating systems using various free tools!


Contents:




1.) Free applications to create icons!
Numerous applications are available to customize, create, and modify computer icons. Here are suggestions for some of the free programs that allow creating and editing symbols!

►►  Greenfish Icon Editor Pro
is a tool for creating icons, animated or static cursor icons and other small image formats. Can extract icons and cursors from executables and icon libraries, batch convert image files to icons or other image formats, it provides different gradient styles for filling shapes and includes many filters

►►  Free Icon Editor

With this free icon editor you can create and edit in standard or custom sizes, in color depths of up to 16 million colors. Standard icon sizes are 16x16, 32x32, 48x48 creating icons with transparency is also possible.

You can find other editors by searching the Internet:

►► 

Icon Editor free

  or ►►

Icon Editor Free



2.) The simple example of an icon editor? 

Here in ►► Greenfish Icon Editor Pro  a simple icon!



(Image-1) Creating and editing icons for Windows!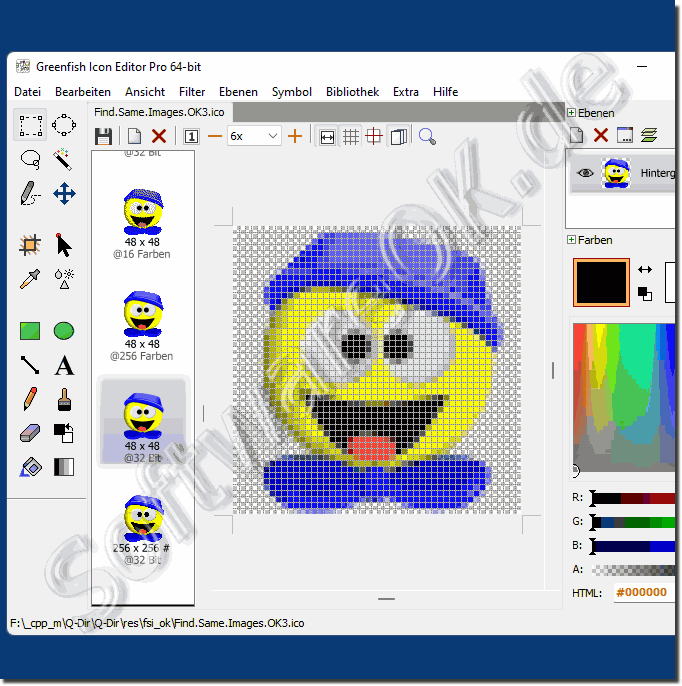 3.) More tips on icons, symbols and co.!
Desktop symbols and folder icons that you create yourself can make working under Windows more individual. You can find more tips on this topic here!





FAQ 19: Updated on: 29 July 2022 20:02