Disabling Data Execution Prevention (DEP) is pretty easy in Windows XP!
PS: the DEP settings have not changed in MS Windows 10, 8.1 and Microsoft Server 2019, 2016, ... so you can see this DEP as a general solution for all Microsoft Windows desktop and server operating systems! 


Data Execution Prevention (DEP) settings all MS Windows!
1. Open the system properties (Control Panel) via Start
"START" > "Settings" > "Control Panel"
2. In the "Control Panel" then double-click on "System" .
3. Click the Advanced tab and click Settings under Performance .
4. Click the File Execution Prevention Tab
(
... see Image-1 Point 1  to 8
) 
Info:

By default, Data Execution Prevention is only enabled for essential programs and services in the Windows operating system. Select Data Execution Prevention for all programs and services except selected enabled programs to help protect additional programs with Data Execution Prevention.
(Image-1) File Execution Prevention (DEP) on Windows XP!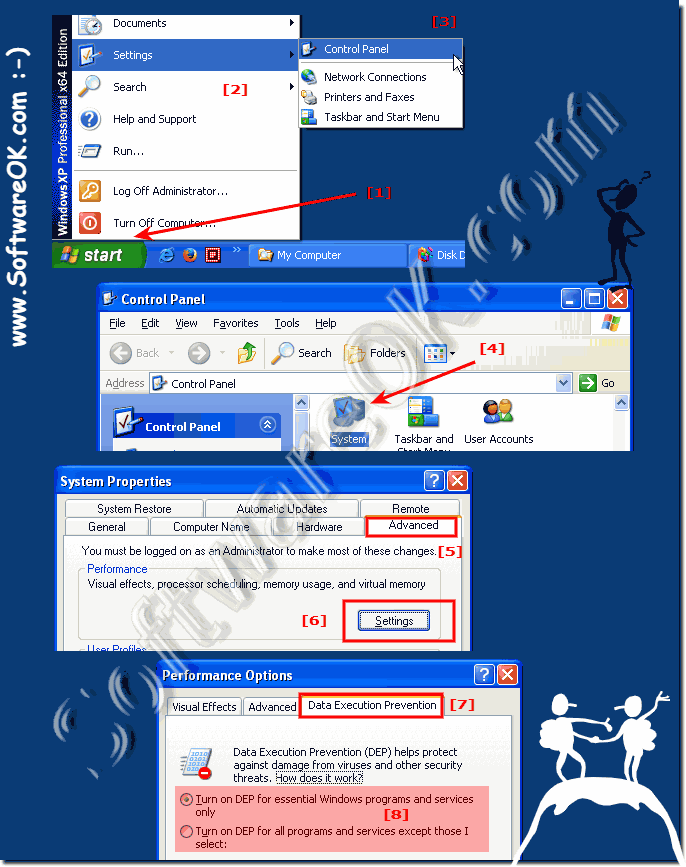 FAQ 13: Updated on: 18 July 2022 19:37