It is easy to ignore file extensions that are not required for printing or export, especially when it comes to the terms zip, txt, ... very helpful! 




► 

DirPrintOK, the directory printout tool for Windows

,

supports wildcards

, so with the specification

.**

 extensions can be ignored, these are not taken into account in the search. It doesn't matter whether you designate it as a file extension or file extension and whether you use it as a search filter on MS Windows 10, .... or on the Windows server!



Content:




1.) Two small filter examples to ignore file extension / extension!
Example 1: 
You are looking for files with the term zip but the extension should not be included 

Use the following filter 



*zip *.**



 
Especially if the folder a lot of files has zip ending it may be advantageous to also exclude the file extension known as file extension
  

Example 2:
You can do it in a combined search for txt and zip, but not file extension in the / extension, but only in the file name  

Use the following filter 



*zip*. **;*.txt *.**






2.) As an example, here is the search result with and without file extension!

Here is the search result in  DirPrintOK. 

With

*zip*.**

 fewer files are found because the folder has many files with the relevant file extension than if the file extension is not ignored  

( ... see Image-1, Point 1 and 2 )



(Image-1) Ignore file extension when searching!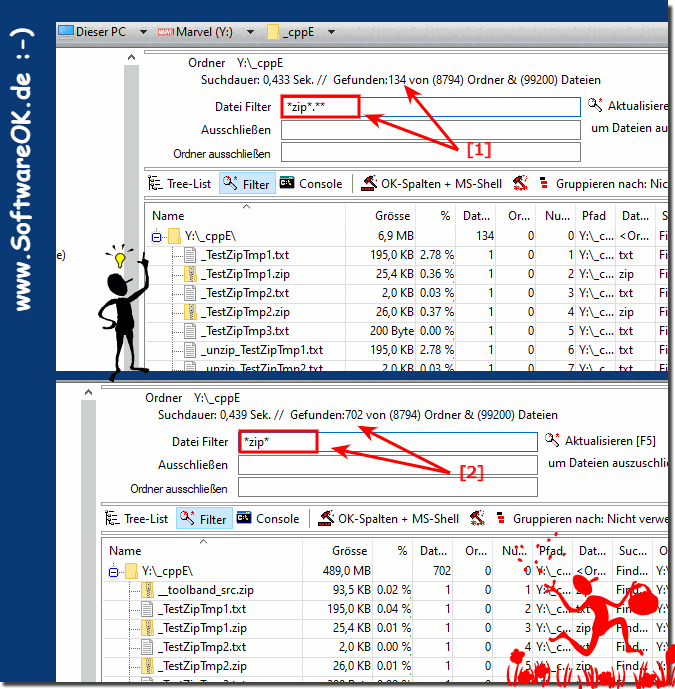 3.) Who needs something like a search without a file extension?
Many have a directory that holds files with multiple extensions like * .asc, .txt. .csv, * .zip, .... etc. have and use this with a script in which you only want to search in the file names that are transferred via the variables.

Admittedly it is seldom the case, but when you need it you are desperately looking for file extensions or file extensions on the Internet or rather to ignore them in order to filter only for file names!

  

4.) More tips on search and file filters!
FAQ 22: Updated on: 27 August 2023 12:17