If you want to determine what screen resolution Windows is currently set to, it's pretty easy to tell!

Detecting the screen resolution is easy and you can determine it quite quickly - it really doesn't take much effort and can also be recognized by inexperienced Windows users, as you will learn in this simple example! It is also suitable as a solution for Windows Server 2003 / 2005 and is often used by advanced Microsoft Windows users.  


1.) Detect screen resolution via the desktop!
With a right click on the "Desktop",  then on  "Properties"  and the tab (tab)  open "Settings"
and you can already see the screen resolution (... see Image-1 Point 1 to 4) 


(Here the screen resolution is shown below displayed on the right). 

Info: A higher screen resolution reduces the size of the items displayed on the screen and increases the relative spacing on the desktop.




(Image-1) Determine the Windows XP screen resolution!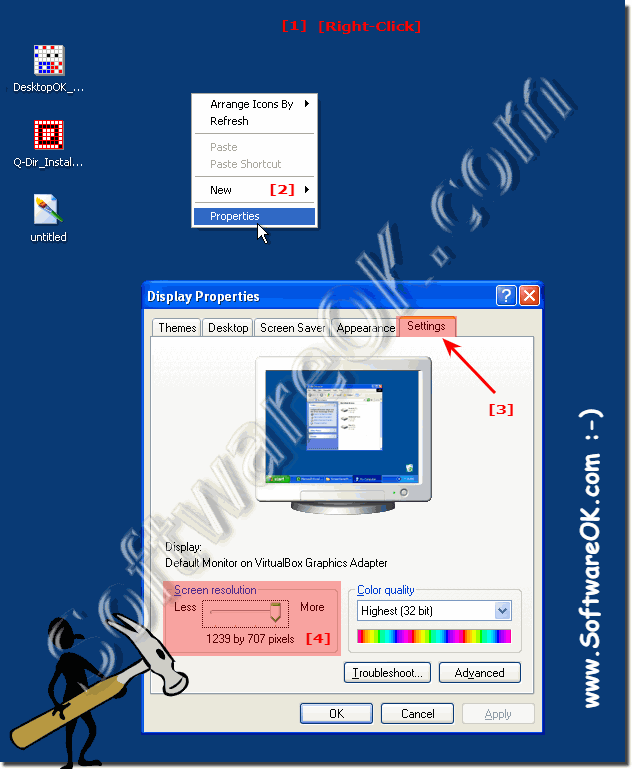 The changes you can make to the screen resolution depend on the screen and the graphics card used. You may not be able to increase the resolution beyond a certain value. Screen resolution changes apply to all users who log on to the computer. Only recommended screen resolutions are listed. To view additional settings, click the Advanced button on the Settings tab, click the Graphics tab, and then click List All Modes. Choose the resolution, color depth, and refresh rate you want. 

2.) Opening the display settings via the control panel!
Who would like to see the screen resolution via the control panel.
Simply via 
"START" >  "Settings"  >  "Control Panel"  "Display",  then the "Settings" tab 

(... see Image-2 Point 1 to 4) 



(Image-2) Windows XP Screen Resolution and Display Settings!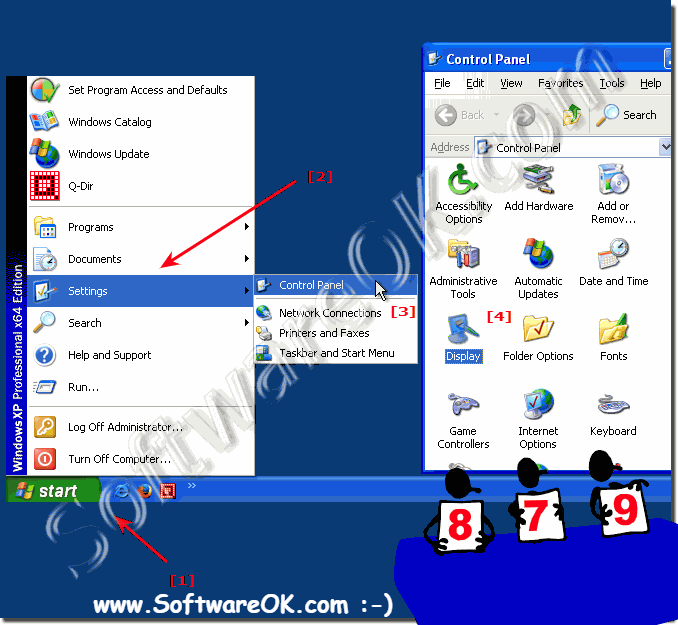 3.) Create a desktop shortcut for the display settings for all Windows operating systems!
Who frequently changes the screen resolution, please use the 

desk.cpl,

 or 

desk.cpl ,3

 command to open the screen resolution settings in Windows, this is also valid for Windows 8.1 and Windows 7! 

Right click on the desktop, option New shortcut as command 

desk.cpl ,3

use as text display!

(... see Image-3 Point 1 to 5) 




(Image-3) Windows XP screen resolution!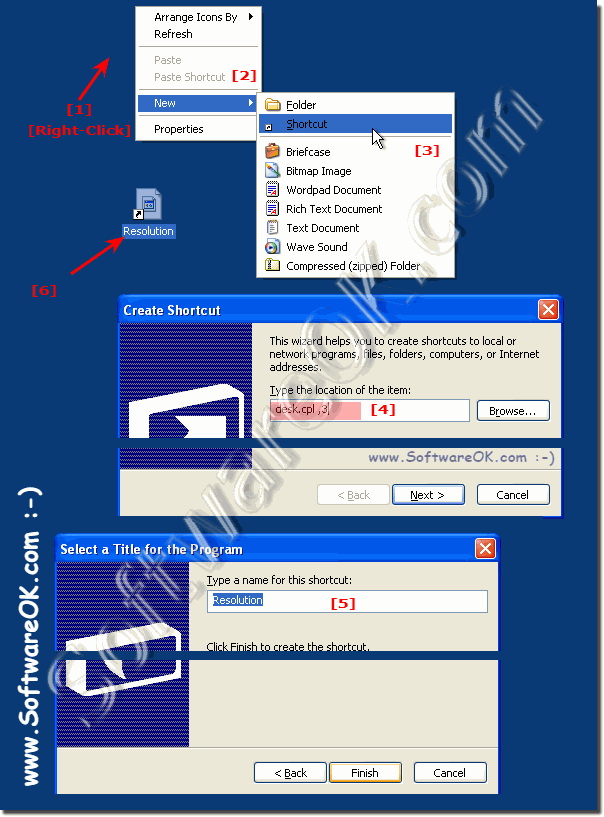 FAQ 7: Updated on: 18 July 2022 18:57