Here is an
example how you can enhance your Halloween Desktop background

with the desktop clock, from the Version 4.21 plus nice Pumpkin decoration!

(Image-1) Halloween Desktop Wallpaper plus Windows Clock!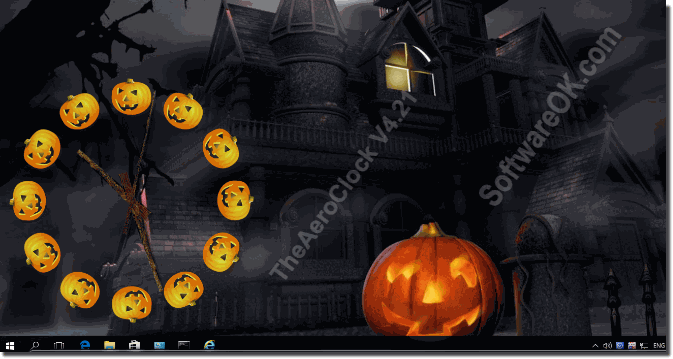 Top User request:
On Windows there is not a very nice Halloween clock even in Windows 10, the store apps and applications I do not trust the spying one only, I'm looking for a Halloween desktop decoration for Windows 10 and 8.1, I still have a computer with Server 2016 here I would It would also like to use it, it would be possible for the next Halloween in the Windows Aero watch something to realize, a few cute Halloween themes suitable for the desktop background and not too big, as I said in the Microsoft Store are too confusing and why needs a desktop You may access my personal information, even my microphone and headphones. I hope I can soon find on your page for Microsoft Windows 10 a great desktop watch for Halloween!