Often times the keyboard driver, if incorrect or out of date, can lead to keyboard problems even if it is not damaged!
You can update the keyboard driver in the device manager, it will then be updated to the next version, many problems will be fixed, but 
a correct Windows restart
is often sufficient!
Content:
1.) Update the keyboard driver with the help of the device manager under Windows 10, 8.1, ...!
1. Start
the Windows device manager
as always!
Windows + R
keyboard shortcut and command:
devmgmt.msc
2. Select the
keyboard
in the Windows device manager
3. Simply right-click to update the keyboard driver
(
... see Image-1 Point 1 to 4
)
Select automatically search for the latest driver software. If Windows doesn't find a new driver, you can search for a driver on the device manufacturer's website!
(Image-1) Update the keyboard driver in the device manager!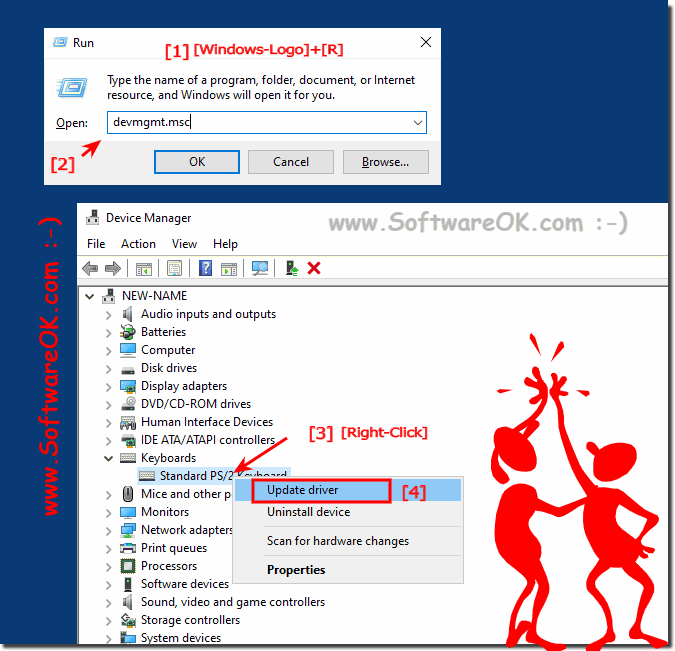 2.) What else can I do if I have problems with the Windows keyboard?
There are keyboards that all require their own Windows-based drivers to access advanced keyboard features such as keyboard shortcuts and media controls. These drivers are provided on the manufacturer's CD / DVD that came with your keyboard. However, you can also download it from the official website of the brand manufacturer Roccat, CHERRY, Logitech, Microsoft, Sharkoon, Razer, ...
A damaged keyboard driver can render your keyboard inoperable, so all you have to do is use the mouse. However, Windows offers some quick solutions that you can use through Device Manager. However, there are a few things you need to check on your keyboard first.