It is quite easy to start Q-Dir Quad Explorer on Windows 11, 10, etc. in Admin mode as administrator in order to carry out important system file management tasks!
Content:
1.) Windows 11, 10, ... with system rights as administrator!
1. Click with the right mouse button on the Q-Dir symbol
2. Confirm that Q-Dir can be run in admin mode
3. In the file manager you can also activate
"System rights"
2. Open the app Directory path: 
C:\Program Files\WindowsApps
4. Now you can remove even unnecessary or uninstalled applications from the hard disk!
(
... see Image-1 Point 1 to 7
) 
(Image-1) Q-Dir the Quad-Explorer in Windows Admin-Mode as administrator!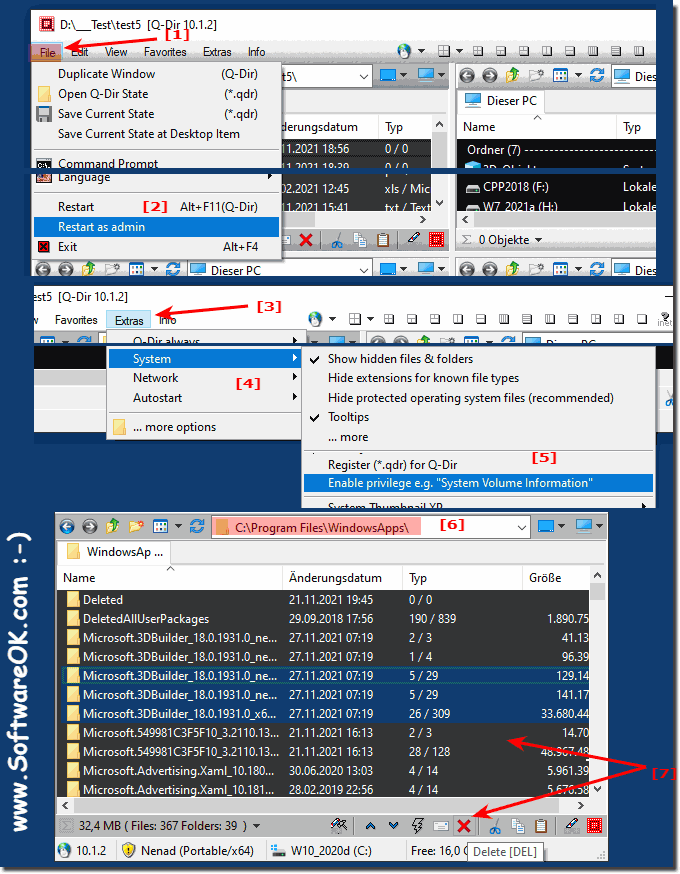 2.) What is to be considered with this access?
Of course, this access with these full system rights should be used with caution, because owner rights, system rights and your own access rights can also be revoked. It's all the more important to know what you're doing, so it's not for beginners, it's more for advanced Windows users.
However, in some cases you can't get any further with normal access rights as explained in the example above because not all things are intended for deletion, especially system-relevant files. So the administrator with the system access rights is a very, very powerful way to remove things that cannot be removed.