While programs running in Windows 10, 8.1,... , it is easy to open the program path via Task Manager on all Windows OS!


Content:



1.) Find the Program Path when program is open! 
1. Please press the key combination [CTRL+ Shift + Esc] to open the Windows 8 Task Manager!

2. Click in the Windows 8 Task Manager (right-click) on the appropriate program eg "Internet Explorer"  

3. Then just "Open file location" (... see Image-1 Arrow-1)


See also: ► Create a Windows 8, or 8.1 desktop shortcut for fast shutdown, log off, restart!




Image-1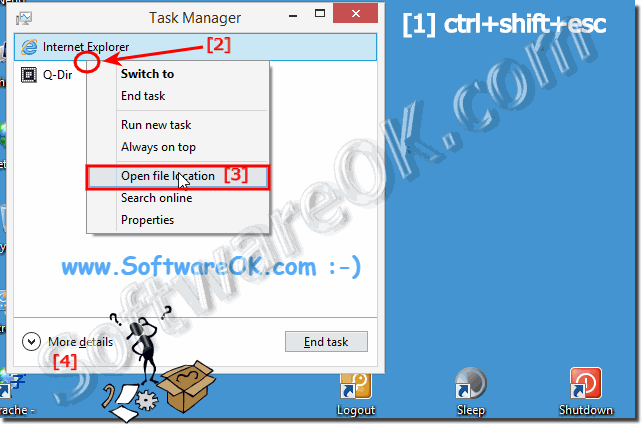 Open in Windows 8 / 10 the program path through the task manager for running programs!

2.) Find the program is not running on Windows!
Example 1:
To open this folder please run the MS Explorer, via keyboard shortcut  [Windows + E] and in the address bar of the File-Explorer [ALT+D] or [F4] enter the address: shell:programfiles  and you can see all installed programs in Windows default Programs Folder.

Example 2:

Open the old Start-Menu Entries in MS-Explorer Windows + R and shell:programs (... see Image-2)





(Image-2) open in Windows 8.1/10 the program path!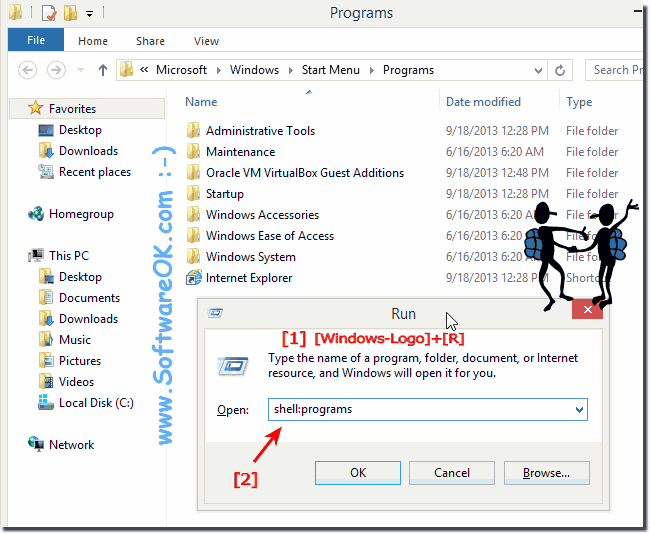 FAQ 97: Updated on: 12 May 2020 19:43