The transparent desktop clock can be positioned correctly and easily on the desktop on all Windows 11, 10, ... operating systems!

If you experience pain after sitting in front of the computer, you may need to adjust the position of the desktop clock as well as other things in your work area. And you can start with the best desktop clock positioning for your computer screen. The exact position of your monitor is also important and depends on your own body proportions! There are a number of steps you can take right away to improve your work posture!


Back to: Positioning the desktop clock correctly on the desktop!
1. When the
Transparent Desktop Clock is
running 
2. Simply deactivate the "Fixed" option at that location
3. Hover the mouse over an opaque area of ​​the Desktop Clock
4. Hold the mouse down and position it wherever you want want.
(Image-1) Position the desktop clock correctly on the desktop!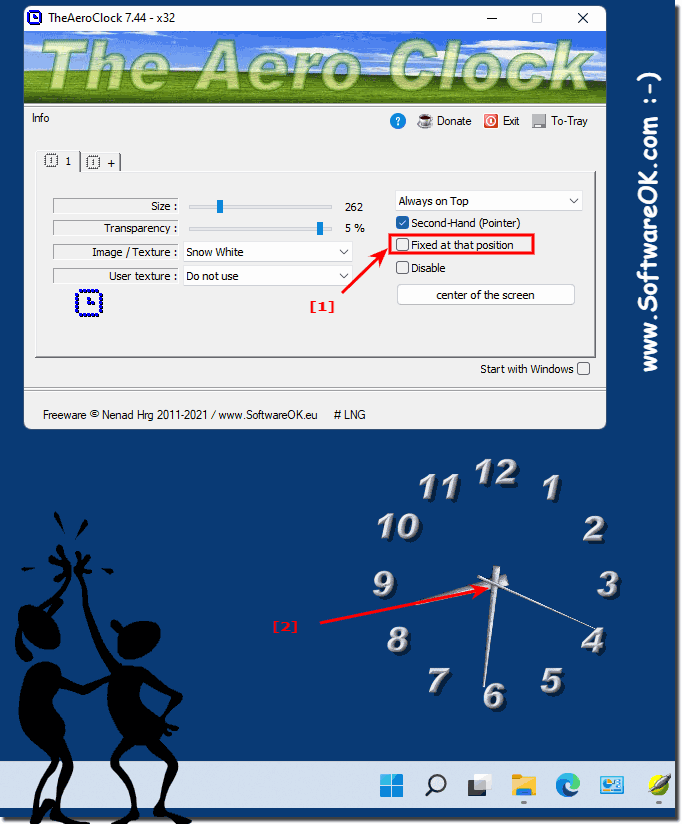 What factors should I consider when positioning the desktop clock?

When it comes to having an acceptable screen positioning that is acceptable, it will vary slightly depending on the desktop clock size. This depends, among other things, on their amount. In general, any position on the screen that forces you to tilt the desktop clock in one way or another is a position that not only strains your eyes but can also cause discomfort and affect your productivity.