Not everyone is familiar with the MSAA means, so it's a good question in the Windows 11, 10, ... benchmark too!




MSAA

stands for

"Multiple Sampling Anti-Aliasing"

or Multisampling, the MSAA one of the simplest mechanical smoothing that replaces Full Scene Anti Aliasing (FSAA) and gives a similar effect with less consumption of resources. Multisampling anti-aliasing (MSAA) is the best known and most widespread form of

anti-aliasing

, virtually all graphics cards from AMD, Nvidia, Intel, ... and almost all current games, this type of so-called

podium elimination

 dominate!


Here in the picture you can see how the MSAA works or what the effect is 

With and without MSAA the anti-aliasing is very nice to see

(... see Image-1 the 4 Circles )




►►  

... Download graphics card benchmark!

 or ►► 

... more about the graphics card tester

 

 




(Image-1) With and without MSAA the anti-aliasing is very nice to see!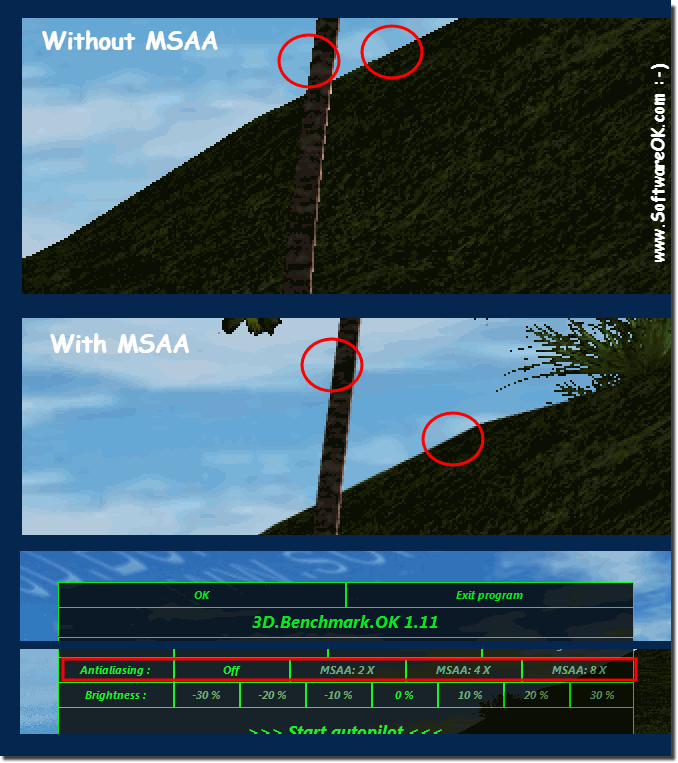 Info:

Even if the image quality does not quite reach the level of the FSAA anti-aliasing. The loss of performance due to MSAA technology is comparatively small, but the image quality clearly benefits. As in the example above. Maximum image quality in every 3D game is guaranteed with the anti-aliasing and texture filters. Depending on the distance to the point of view or the object, the MSAA has a different effect and which level of anti-aliasing is used.



FAQ 7: Updated on: 14 July 2021 10:40