It is easy to remove the alternative energy efficiency tool from all Windows desktop and Microsoft server operating systems without any problems!


Content:





Even if the tool with a size of less than 100 KB is exactly the right tool to improve

the energy efficiency on all Microsoft Windows operating systems

 without having to change the 

energy options on Windows,

you may not want to use it. The removal does not require any external uninstallation software or cleanup tools, which also spill your PC with viruses, Trojans or malware. It doesn't matter whether you have tested it on Windows 10, 8.1, ... or MS Windows Server 2019, 2016, ... etc.!



1.) Manual removal of the energy efficiency tool!
1. Please start / open AutoPowerOptionsOK  

2. Deactivate the option "Start with Windows"

2. End the program with the "Exit" button 

3. Simply delete AutoPowerOptionsOK.exe and AutoPowerOptionsOK.ini from the operating system and the matter has done itself, since AutoPowerOptionsOK is a portable application, it also leaves no trace on the operating system.

(... see Image-1 Point 1 to 4)

Please use ... always the latest version of AutoPowerOptionsOK ! 



(Image-1) Remove the Alternative Energy Efficiency Tool from all Windows 10 OS!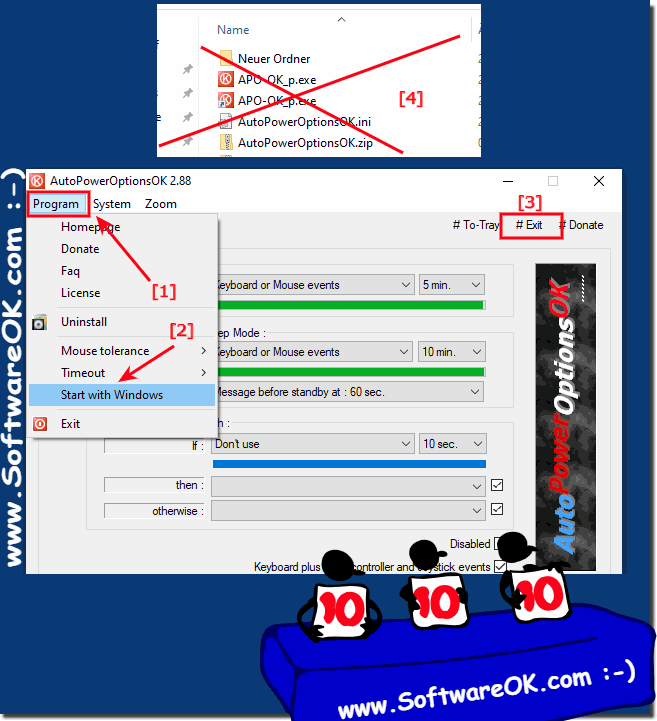 2.) Automatic self-destruction / deinstallation on all Windows OS!
1. Start AutoPowerOptionsOK 

2. Via the main menu in Energy Efficiency Tools

3. "Uninstall"

4. Please confirm "Are you sure" with "YES"

(... see Image-2 Point 1 to 3)

And the free energy efficiency tool is completely removed from your Windows computer. Please note that you no longer benefit from the energy efficiency advantages and that removing the tool does not result in an increase of the energy efficiency on Windows.



(Image-2) Uninstall the Alternative Energy Efficiency Tool from my Windows 10, ...!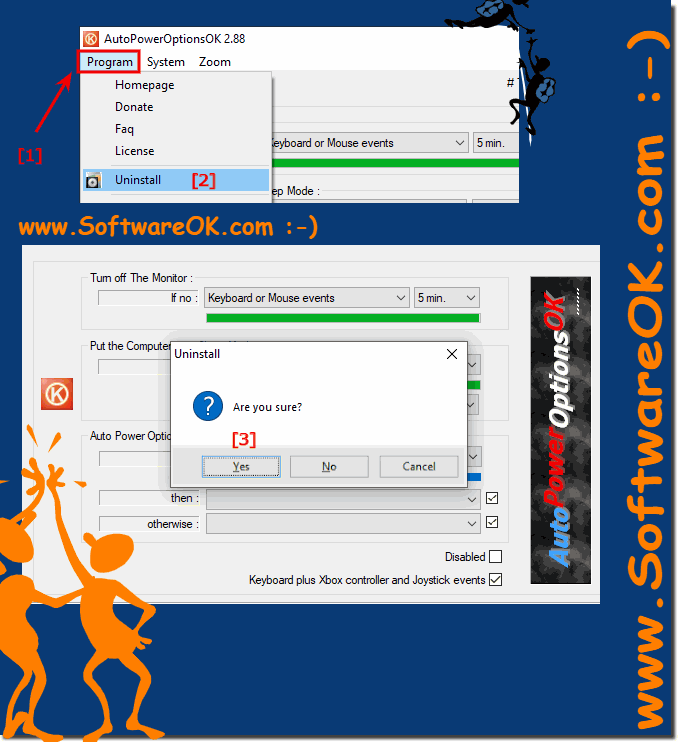 Info:
►► 
What are energy options?
►►►
Power options  changes on Windows 10
!

Addressing exceptional climatic challenges requires a major effort to change our energy future and reduce our dependence on fossil fuels. At the heart of this challenge is the opportunity to improve the places where most people spend 90 percent of our time, and that's just buildings.  



FAQ 7: Updated on: 20 June 2022 11:33