The tab key or, for short and affectionately, the Windows tab key, can be recognized by a
↹ on the Windows keyboard

!

Not to be confused with a program, e.g. Internet browser, there the "Tab Abbreviation" is  a so-called tab, that is one of several small, labeled and clickable areas at the top of a window. You can use tabs to switch between separate documents, forms, or web pages.


 

Content:




1.) Back to: The Windows Tab key on the keyboard!
 

PS: The tab key is also used under Linux, MAC-OS and Android!

With the Shift key + Tab you can jump back in the form , very popular with users who like to work without a mouse in order to relieve the mouse-arm joint!






(Image-1) The Tab key on the Windows keyboard!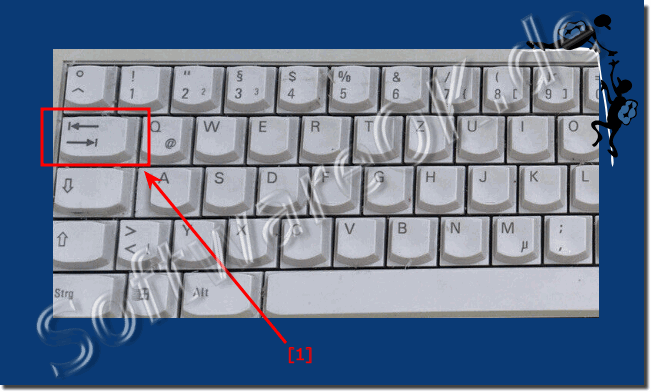 The currently selected tab is usually highlighted in a lighter color than the others. The user interface is similar to the tabs above in traditional file folders when viewed from a filing cabinet.


2.) Why do I need the Windows Tab key on the keyboard!




The Tab key, also known as the Tab key, is a key on the computer keyboard that can be used for various purposes on Windows computers. Here are some of the most common uses of the Tab key on Windows:





Word Processing:
In word processing programs such as Microsoft Word or Notepad, the Tab key is used to indent text or navigate between form fields or text boxes. When you press the Tab key, the text cursor jumps to the next tab stop or text field.

File Explorer:
In Windows Explorer or File Explorer, the Tab key is used to navigate between files and folders. You can use the Tab key to select various items or navigate menus and toolbars.

Web browser:
In web browsers such as Microsoft Edge or Google Chrome, you can use the Tab key to move between different interaction elements on a web page, such as links, buttons, and form fields. This makes it easier to navigate websites.

Dialog boxes:
In dialog boxes and settings windows you can use the Tab key to switch between different setting options. This allows for efficient navigation and selection.

Command Prompt:
In the Windows Command Prompt, you can use the Tab key to autocomplete file names and commands. If you type part of a file name or command and then press the Tab key, Windows will attempt to autocomplete the text if there is a unique match.


Switch between open windows:
Pressing Alt + Tab will display a thumbnail of all open windows. You can then use the Tab key to jump back and forth between the windows.





The use of the Tab key can vary depending on the application and context, but is typically used for traversing the interface or indenting text.





FAQ 118: Updated on: 18 October 2023 17:32