If the Desktop Notes program appears in the wrong language on Windows 11, 10, ... Desktop or MS Server, don't panic!


As a rule, the standard language is used under Windows, sometimes it does not work if, for example, the wrong language is set under Windows!   



 

Contents:




1.) Changing Language in Desktop Notes APP on all MS Windows OS!

1. Please start the ►  ... desktop notes tool for MS Windows

2. Change the language using the third button in the main menu

( ... see Image-1 Point 1 and 2 ) 

Optionally, you can use the notes tool here Translate your national language 

( ... see Image-1 Point 3 ) 




(Image-1) Desktop notes program change the wrong language!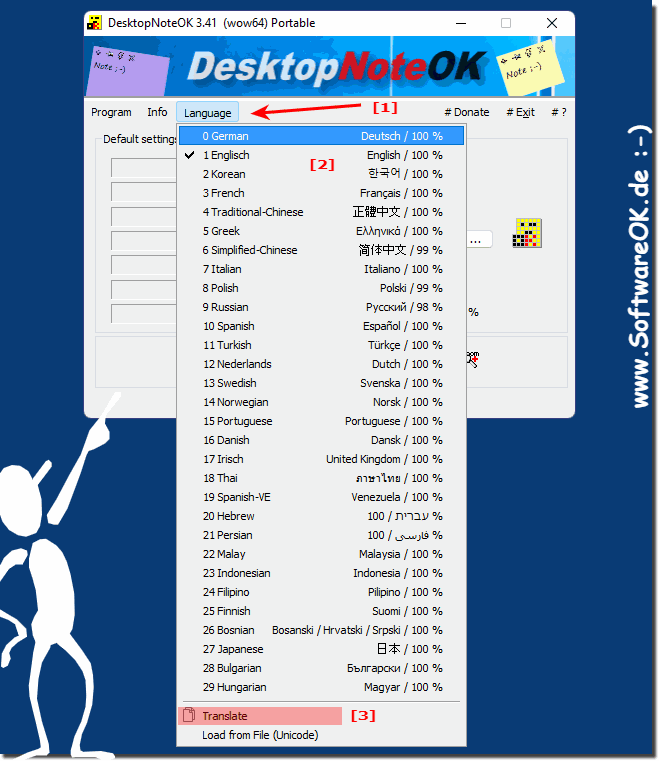 2.) What languages ​​are supported in the notes tool?
# DesktopNoteOK is multilingual and a popular program worldwide:
3.) What should I consider when changing the language in this desktop APP?
There's nothing major to note, you should of course choose the language you understand and can read!

You can change the language in the desktop sticky note tool at any time, but the tool recognizes  the Windows system language  and automatically switches to the most obvious language. If it doesn't happen automatically, you can change the language in the application as described above!  



4.) More tips on language, region, ... on MS Windows OS!
FAQ 15: Updated on: 21 June 2022 07:28