The solution is simple see the leaves in the foreground (on top) 
or let it rotate on the desktop, this works 
on 
Windows 11, 10 and 8.1 or other Windows Operating Systems!

Contents:



1.) The solution to see the leaves in the foreground!
Please start the DesktopSnowOK and disable the Option Only on desktop background optional activate the rotate feature.
(... see Image-1)

Please use always:  ... the latest version of DesktopSnowOK!



(Image-1) rotate the leaves in foreground not only on windows desktop!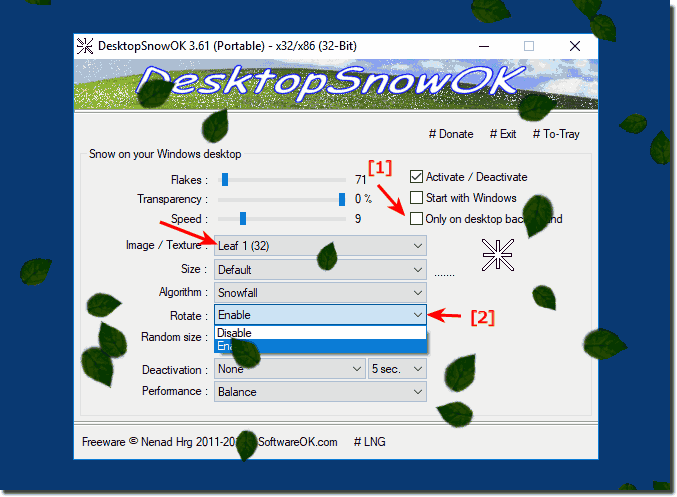 2.) Thoughts on falling leaves in the background!




The statement "leaves are not in the foreground, they just fall on the desktop" means that leaves are not at the forefront of attention, but only on the desktop computer. This can be interpreted in different ways.




One possibility is that the statement suggests that leaves fall in the fall, but in today's digital world they are no longer as important as they once were. Leaves still fall from the trees, but are not noticed as much anymore since most people spend most of their time in front of the computer.

Another possibility is that the statement is a metaphor for something else. For example, it could indicate that important things are often overlooked because people focus too much on unimportant things. In this case, the leaves could be a symbol of something important in the background, while the desktop computer is a symbol of something unimportant in the foreground.

This is of course just an interpretation. The statement "Leaves are not in the foreground, they just fall onto the desktop" can also be interpreted differently.

A desktop background animation where falling leaves appear on the desktop in the background rather than in the foreground where your active applications and windows are. This type of animation is often part of a desktop customization or wallpaper program designed to beautify or personalize the desktop background.




To configure or customize the falling leaves animation on your desktop, you usually need to check the settings of your operating system or a specific desktop customization program. The exact steps may vary depending on the operating system and applications used. In most cases, you can find these settings in the desktop display options or wallpaper settings.







FAQ 2: Updated on: 16 October 2023 21:02