This is the new function in DesktopSnowOK 3.11, the rotation of the
heart flakes or snowflakes on the Windows 11, 10, ... desktop

, but it can simply be turned off!

Content:



1.) Stopping the rotation of the flakes on MS Windows desktop and server!
1. Please open / start as always ►   DesktopSnowOK for Windows

2. Simply deactivate the rotation of the snowflakes!

(... see Image-1)

Please always use ►  ... the latest version of DesktopSnowOK !



(Image-1) Falling and rotating Hearts on Windows Desktop!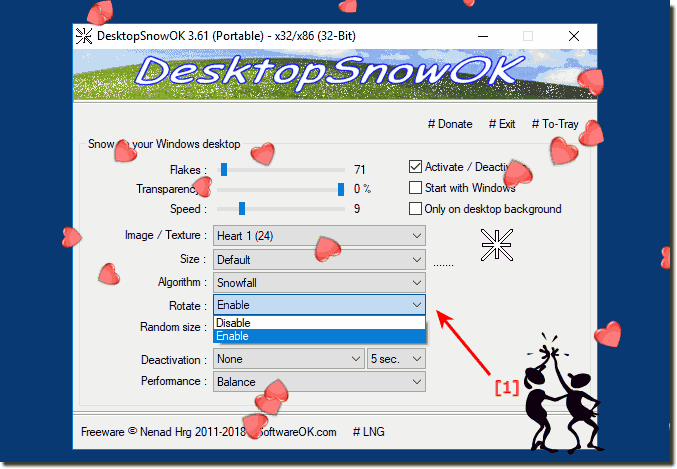 2.) More information about the flakes for Windows operating systems!
Info:

With the app you can choose the shape and texture of the falling flakes. Aside from the normal white balls and the randomly shaped snowflakes, you can also choose other options. For example, the screen can be covered by colored balls, flowers, stars or sports balls such as soccer, baseball, tennis, whether you enjoy the snow on a Windows desktop computer at home, mobile on a tablet PC, Surface Pro / Go, or even as an administrator in a server room on the server operating system.








Flakes are a popular wallpaper for Windows operating systems. They come in different styles and colors and can spice up the look of the desktop.

The first flakes for Windows operating systems were introduced in 2000 with the release of Windows Me. They were part of the "Enchanted Theme" and were designed by a female artist. The flakes were different colors and fell randomly on the desktop.




There are different types of flakes for Windows operating systems. The most common types are:

- Single color flakes: These flakes are available in a single color, for example white, blue or red.

- Multi-colored flakes: These flakes are available in multiple colors, such as rainbow colors or autumn colors.

- 3D Flakes: These flakes have a three-dimensional effect.

- Animated flakes: These flakes move across the desktop.

Alternatives

There are also a number of third-party applications that offer flakes for Windows operating systems. These applications often offer a wider range of flakes and features than the flakes built into Windows.


Flakes offer a number of benefits, including:

- They can spice up the appearance of the desktop.
- They can have a calming or relaxing effect.
- You can add a personal touch.


Flakes can also have some disadvantages, including:

- They can affect the performance of the computer.
- They can be distracting.




Flakes are a popular wallpaper for Windows operating systems. They offer a number of advantages, but it is important to consider the possible disadvantages. Animated snowflakes or falling snowflakes for Windows operating systems are such animations that are often popular to beautify the desktop during winter or Christmas. Here are some ways you can display animated snowflakes on your Windows desktop!





FAQ 3: Updated on: 16 October 2023 20:59