Here is the solution how to find and change the proxy server configuration in Windows for Internet Explorer and other programs!


Please start the Windows Control Panel, in the Control Panel open

Internet Options

.



Now just inside the tab bar connections click on the LAN settings button.

 

And configure or use scripts for automatic proxy configuration e.g. the proxy server. 

(

... see Image-1 Point 1 to 4

)

PS:

With [Windows Logo + R] and the command

inetcpl.cpl

you can access the Internet Options directly! 

(

... see Image-1 Arrow-1

)

(Image-1) Proxy server configuration in Windows!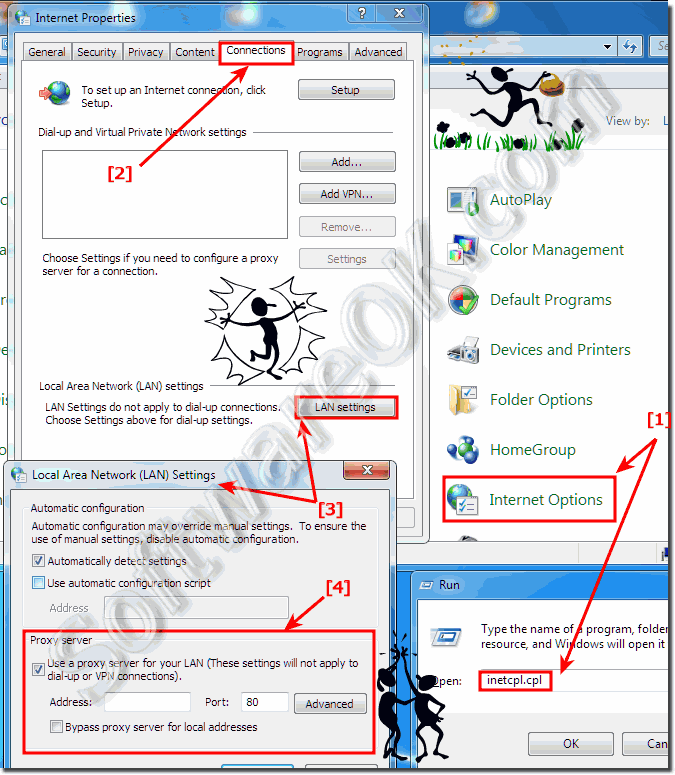 Info (c) Microsoft:
A proxy server is a computer that functions as an intermediary between a web browser and the Internet. Proxy servers help improve web performance by storing a copy of frequently used webpages. When a browser requests a webpage stored in the proxy server's collection (its cache), it's provided by the proxy server, which is faster than going to the web. Proxy servers also help improve security by filtering out some web content and malicious software.

Proxy servers are used mostly by networks in organizations and companies. Typically, people connecting to the Internet from home will not use a proxy server.
FAQ 15: Updated on: 24 July 2022 09:05