The solution to download the Chrome for Windows 10 is easy on all Desktop and server OS!


The solution ergo instruction, example is not only written for Windows 10, the screenshot has been made / snipped  under Windows 10 it works also for MS Server 2019 and is easy to do, if you for example have disabled the Internet explorer , the Google Chrome is a good alternative Browser to explore the web, however, you can use this example, solution without hesitation and disadvantages also for earlier older / versions of Microsoft's Windows operating systems whether it's a Windows desktop, tablet, Surface Pro / Go, or even a server operating system.

Download and install Chrome for Windows 10!
1. Start Edge or Internet Explorer  

2. Go to http://www.google.com/chrome + Enter Key

3. Click the Download Button 

4. Install the Google Chrome

5. Start the Google Chrome from Windows 10 Taskbar





That is it!

Installing Google Chrome on Windows 10 is easy to do and takes only 1 Minute to download and ~30 Seconds to be installed. The Space on HD is around 200 MB, and this is OK for a Web-Browser, the Google Chrome is a good internet browser that has a fast installation and quick start from windows taskbar is a good solution for Edge or IE hater!




  



(Image-1) You can download the Chrome for Windows 10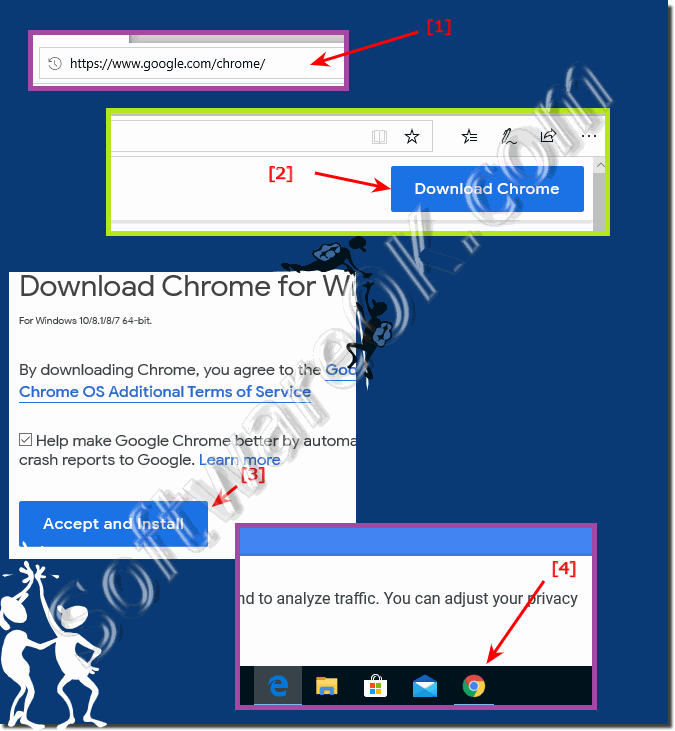 FAQ 26: Updated on: 5 June 2020 09:29