Please open the main menu IsMyHdOK and select compare the Results on IsMyHdOK.com! (... see Image-1 )

Direct to IsMyHdOK ► ...drive Compare Charts 

Please use  ► ... always the latest version of IsMyHdOK! 



It's also a good way to test whether the hard drive has slowed down after a few months.

Then you can do a drive optimization directly in IsMyHdOK via the System menu. After the drive optimization you can do the benchmark again to see the speed optimization of your hard drive or SSD, after the windows optimization (suitable on Windows 10 and 8.1) . In many cases the HD access time is after the optimization 10 to 50 % better.  

IsMyHdOK  has a screenshot function, you can save a image with the HD test results in PNG file on your windows computer to compare it with the last HD benchmark.



(Image-1) Compare the HD on SoftwareOK!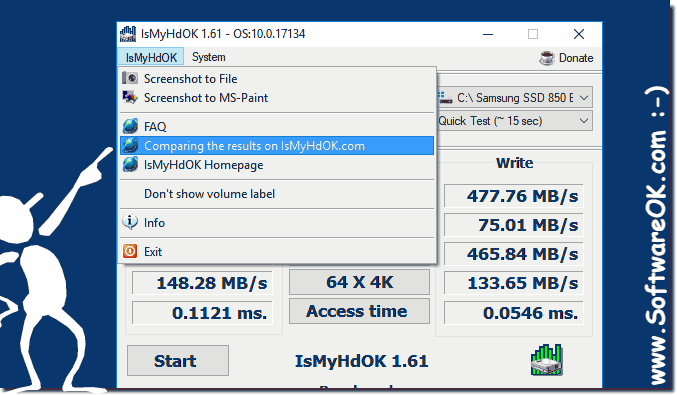 FAQ 5: Updated on: 26 June 2020 15:26