Everyone needs a little nice decorative software, even on modern Windows 10 OS and mobile devices!
It is a decorative software that
displays decorations such as stars, hearts and soccer balls after moving the mouse pointer.
You can choose the type you want to display from the theme and customize the display speed, transparency, size, etc.
This software can be used if you want to add an accent to normal PC operations.


The purpose of decorative software is that it is decorative and does not have a certain meaning, other than being decorative and bringing a little bit of your own note to the Windows desktop!
Give the software a useful use!
But you can also decorate your own pictures with this software using the
Windows screenshot
! 
(Image-1) The mouse traces on the modern Windows OS!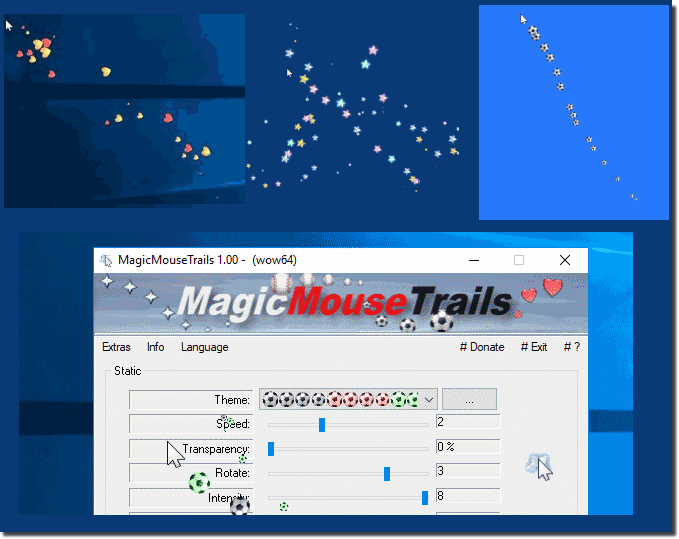 MagicMouseTrails is a mouse pointer decoration! 

A computer program with the purpose of decorating any desktop PC, shows a variety of images in the direction of the mouse movement. This implements the function of setting up the desktop and makes it the most exciting and cute.

The application is not demanding on operating system resources.

The faster the movement, the more characters follow the mouse pointer.

Basically, you can adjust the scale and proportions of the images, their number and other settings.

There are various topics that you can really pick up on: from colorful asterisks, hearts and balloons to soccer balls, flowers and leaves.

You can e.g.

B. adjust the speed of the tracks behind the mouse pointer, determine its intensity and rotation height.

The size and duration of the trail can similarly be changed in accordance with your interests.

If you want the most discreet effect, you have the option of making specific settings for the transparency.

So in case you need to paint your desktop PC for the New Year, the software will be able to do this simply because you can pick up snowflakes and all of them will be thrilled Accompany your cursor throwing the scenic trail.



FAQ 6: Updated on: 24 May 2020 07:13