Pointer-Stick is definitely not a joke program, many people, or Windows 11, 10, ... etc. users are happy about this program!


Especially for projectors and larger LED / LCD screens, the program proves to be very useful.

And when you consider that there are projectors of 10 square meters or more when projecting the image onto a screen, the question is superfluous by itself. Or do you want to work with a 7 meter long pointer stick.

Or do you want scratches on your expensive LED screen?

So quiet times, Download the pointer stick and try for free.




(Image-1) Neon-Yellow-Metallic Pointer-Stick for the Windows Desktop!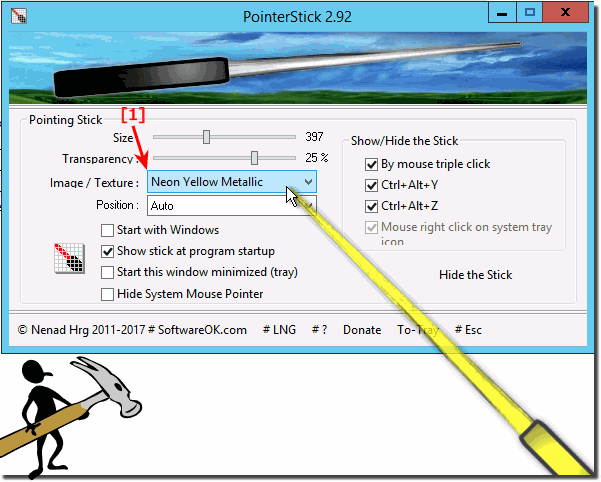 This program will appeal to anyone involved in presentations in programs such as PowerPoint as well as anyone working with similar programs knowing that it is not very easy to work the mouse on a large screen. The mouse cursor becomes a real virtual pointer with the PointerStick, because of the size it is possible for you to comfortably work in programs that have to do with presentations. The program itself is very small, as it takes up virtually no space on the hard disk, and you can transfer it to a USB stick.
By the way, it is very processor-friendly and it creates almost no load on your Windows computer, which you can also check via the Windows Task Manager.
Since there are problems with the saving in the ini file under Window 10 please create on your USB drive in the PointerStick working directory PointerStick.ini. However, here only the language setting is saved as well as the pointer size and the selected pointer design.
FAQ 4: Updated on: 25 July 2021 09:38